The Hurricane Lane Experience
This past weekend, as you most likely already know, Hurricane Lane was headed directly for Hawaii and predicted to be a devastating and powerful storm. As you also probably know, while the storm did cause some devastating flooding and other problems for Maui and the Big Island, for the rest of the state Hurricane Lane lost all of her power and pretty much missed us completely. Despite the anti-climatic ending for those of us here on Oahu, it did make for a memorable experience, especially for a hurricane virgin such as myself.
Hurricanes hitting Hawaii are incredibly rare. In the three years since I moved here I have never even encountered a Hurricane Warning or Watch. During my first year here I did experience a Tropical Storm brushing by the island which brought some crazy rain and wind, but that was the extent of my extreme weather experiences here in Hawaii, until this weekend.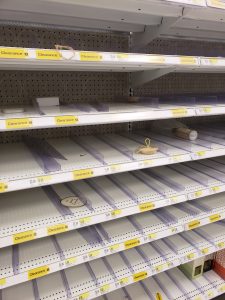 Early last week, probably about Tuesday was when the media really started covering Hurricane Lane heavily. Up until that point I had not heard much about it, nor had I heard that it was headed right for us. As soon as I became aware of that, I began to get just a little anxious. I was at work at the time and texted my husband to check out our food rations and make sure we were well prepared in case anything did happen. Our emergency kit was ok, but my husband headed to Target to see if he could grab anything extra, just in case.
The store was already cleaned out. The storm wasn't predicted to reach Oahu until Friday some time, but already people had rushed off to the stores to grab any rations and water they could get their hands on.
On my way home from work, some stores had already begun to tape up their windows and the lines at the gas stations were insane.
Late Tuesday Hurricane Lane was upgraded to a Category 5 storm and that scared the crap out of me. All along, and even at this point, I wasn't worried about Lane actually making landfall here on Oahu and causing destruction in that way, but Hawaii floods, a lot, and loses power, a lot. Hawaii has these issues under normal rain and wind conditions. Just a few months ago the roads out by Kualoa Ranch flooded and that was just a normal, heavy storm. I was worried about the hurricane causing severe flooding and bringing along dangerous winds that would knock out the power and potentially even the water for a few days or maybe even a week or more. I became nervous that we wouldn't have enough water or food to be comfortable for an extended period of time (I knew we'd be ok, but I wanted to be sure we wouldn't have to stress.)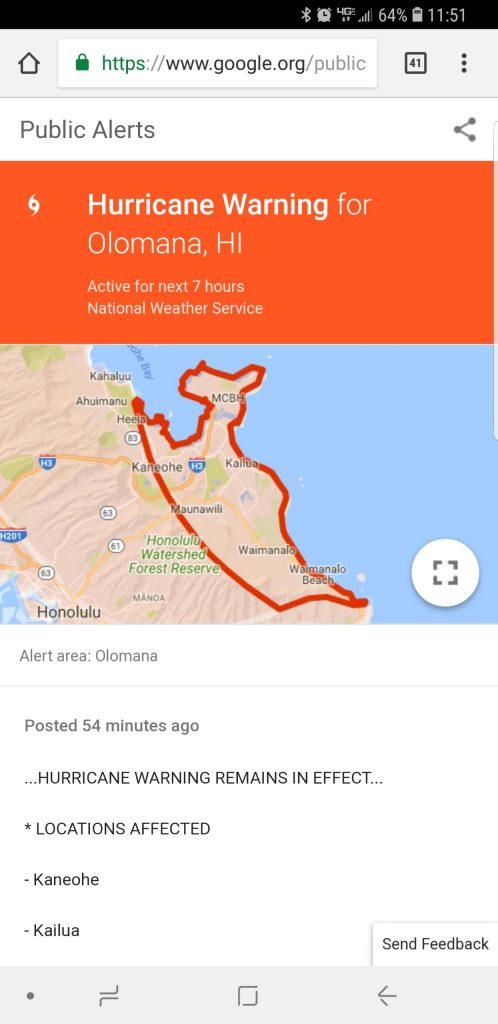 Since the husband had already braved the chaos of the stores I volunteered to go after work on Wednesday. I had heard some of the stores would be restocking so I was hoping I could find something.
I was HOPING, but new developments arose on Wednesday. Nothing too crazy, but I think it was enough to make the people who weren't already preparing to go, "Oh crap, maybe we should grab somethings." On Wednesday it was announced that all schools would be closed for the remainder of the week. Also, mail service, trash pickup, and The Bus would end Thursday night and resume again on Saturday, unless the forecast changed. On top of that, Pali Highway, my main route to and from work, would also be shutting down Thursday night. Many businesses also announced they would be shutting down for the next few days.
Before leaving work I got the alert that Oahu had been upgraded to a Hurricane Warning.
On my way home from work I saw more businesses and now even homes not only taping their windows but boarding up as well. It was a little eerie for me.
When I got to Target it was oddly calm and the parking situation was pretty normal. When I got inside I realized why. The food aisles were empty. From cereal to cookies and chips, there was pretty much nothing left. I was able to grab a few bottles of coconut water and next door, at Safeway, I was able to grab the last can of menudo and a box of crackers.
Thanks to the storm, my husband was sent home from work early on Wednesday and we were able to drive across the island to a Walmart that wasn't as picked over as some of the stores in town. There we were able to grab a few more things and with that, I had to accept that our emergency kit was set.
Thursday I went back to work for half a day to help finish up any important assignments and help the hotel prep for the hurricane as much as I could. I spent most of the day protecting files from potential leaks and helping the pool staff remove all furniture and decorative items.
I was home by 2 and the waiting game began.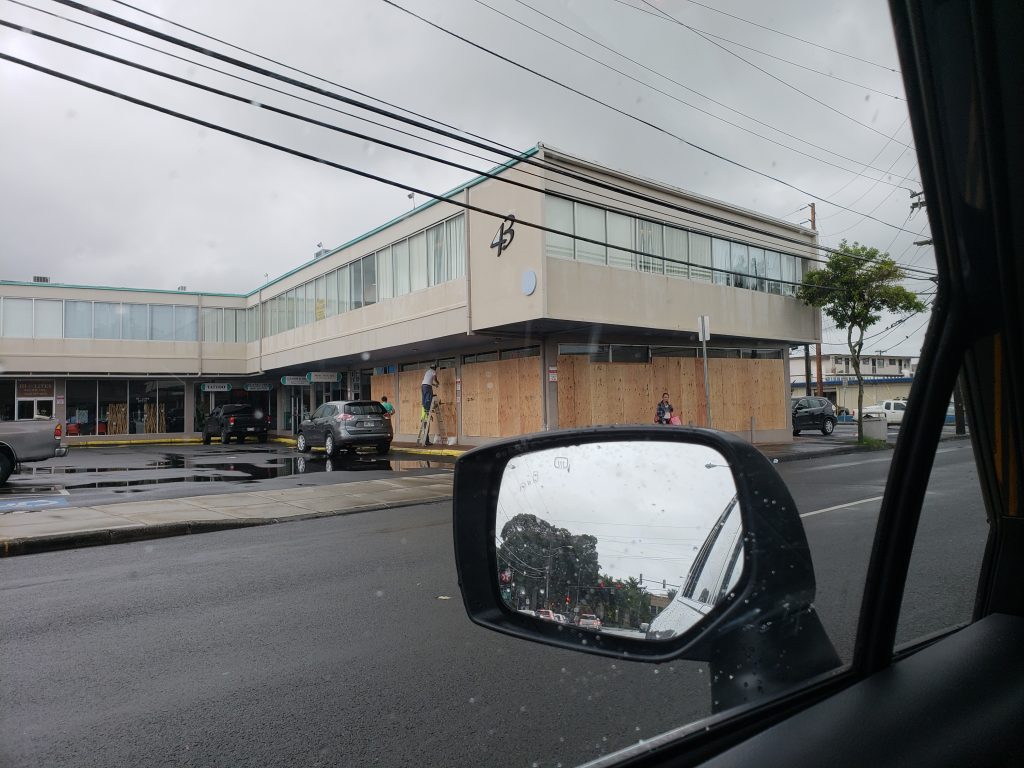 The Big Island and Maui had already started to feel the storm. We expected late that night or sometime early Friday morning we would begin to see the storm, but nothing happened. The forecasters started pushing back the expected time.
Friday 2 am.
Friday 2 pm.
Friday 8 pm.
Every time they would push it back they would emphasize though not to let our guard down, that the storm would hit us and it would be damaging. We did start to see some rain and some wind Friday morning, but nothing really unusual. Friday afternoon the storm drastically slowed down and quickly lost power. Oahu was downgraded to a Tropical Storm Warning and then a Watch. Even after we were downgraded to a Tropical Storm Watch the media kept coming back reminding us that we still could see damaging rains and winds, but nothing ever came.
Despite the absolute boredom, this storm caused for me this weekend and despite how much I love crazy weather, I do realize how damaging this storm could have been for our island and I am grateful that we came out of this with no damage. My thoughts are with all those on Maui and The Big Island that did have to endure the power of Hurricane Lane and are now faced with the task of rebuilding the damage she caused.
On the personal bright side, my emergency kit is now well stocked =)