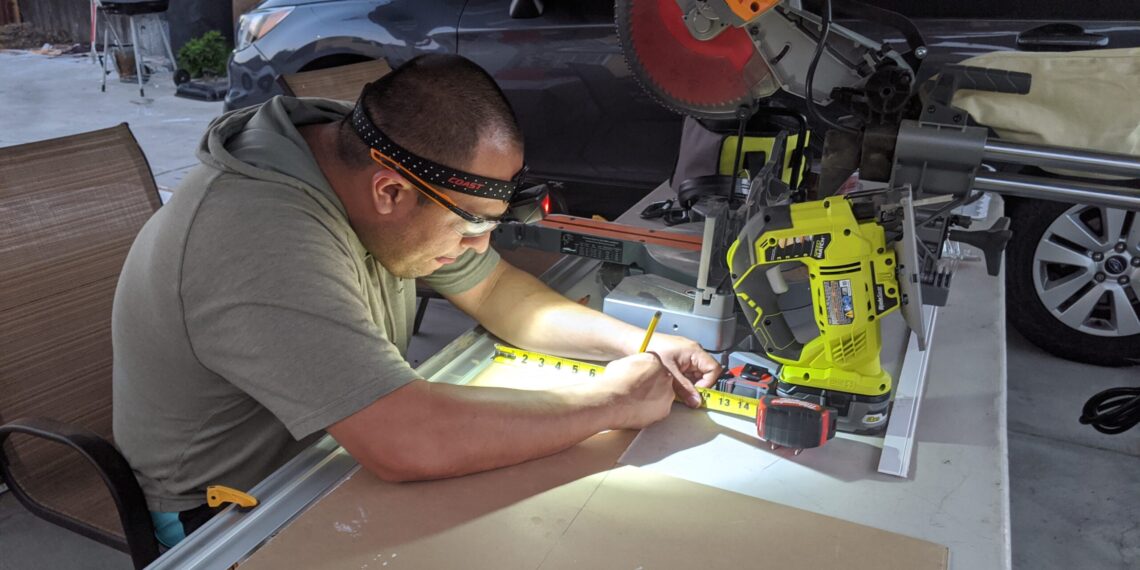 Making Myself at Home – Part 1: The Bathroom
I have been living at my sister-in-laws, in her rental space, for about a year and a half now. And although I love it, my husband and I have our own space, my doggy gets to live comfortably, we were able to rescue Musubi, we have access to an awesome outdoor space to entertain in, and much more, I haven't really felt fully at home. Not as in I didn't feel comfortable here or I couldn't relax, it was more I fell into my old Hawaii mindset of "this is temporary" and I didn't let myself get too comfortable. I never made the space mine. We didn't really take the time to add too many personal touches. My husband and I just kind of worked with the space the best we could. And although I'm not sure how long we will be living here, I know from my time in Hawaii, living with that mindset is not great (I've probably mentioned this before, but I sometimes have to learn a lesson several times.) I know that it is important for my own mentality to make a space mine, to the best of my ability. And luckily, since we are renting from my husband's sister, that means we had/have a lot of freedom. We decided to start with the bathroom.
Quickly, before I get into my bathroom renovation, I just want to apologize for being MIA. As you will see in this post, and many more to come, I have been drowning (in a good way) in home renovations for the last month and I'm not nearly done yet. It has been an exhausting blast that has kept me super busy from the time I wake up in the morning until I lay down at night and instantly pass out. I've scrubbed, taped, painted, sanded, drilled, and redesigned to my heart's content and it has been amazing. I've wanted to come in and update you on all the details, but I've just been too immersed. Now, thanks to this ridiculous SoCal heat wave, it's too hot to do anything else.
Now back to the bathroom.
My husband and I have actually been talking, for probably a year now, about wanting to paint where we live and change some things, but have always fallen back on, "well, who knows how long we will be here." That all changed one afternoon, when my sister-in-law walked out covered in coral paint. She was painting her bedroom. Without even thinking my husband and I asked if we could do some painting as well. We got the go ahead and from there our renovation plans snowballed.
We started with the bathroom because it seemed the most problematic. We honestly thought we would do the bathroom and just end there. We had no plans of moving onto the rest of the house, but that changed the minute we felt the difference in the bathroom.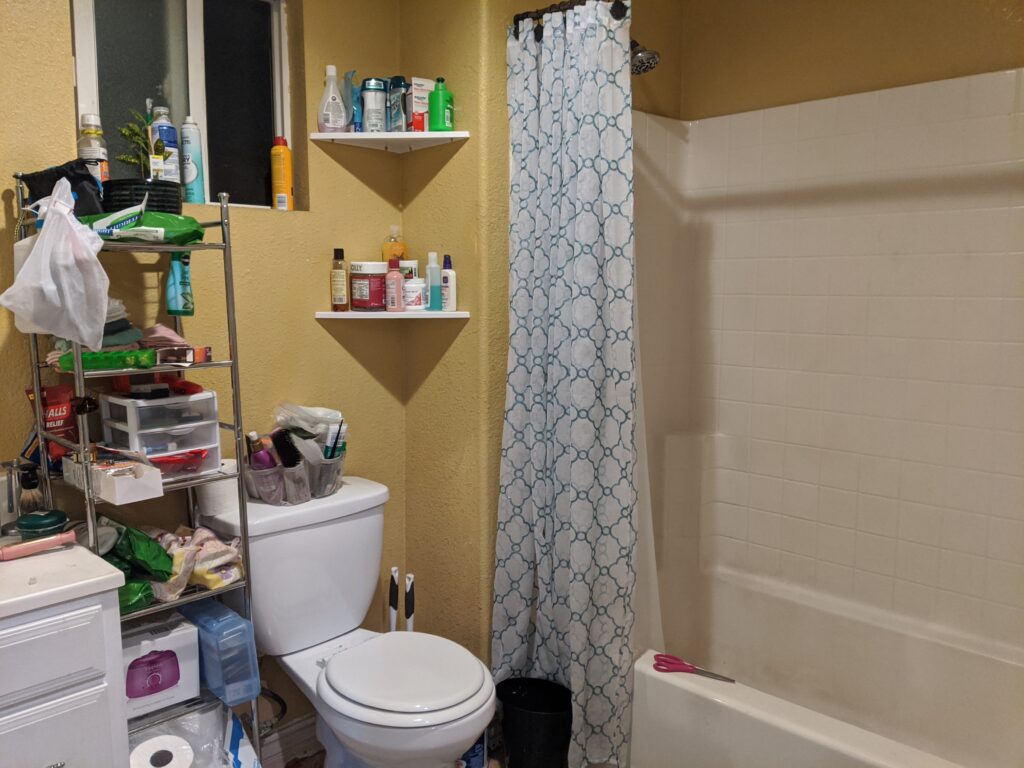 Like I said, we started with the bathroom because it felt the most problematic. I like yellow, but our bathroom was a dark mustard yellow. It just made the space feel strangely warm and kind of dark. It also gave everything a weird warm glow, which isn't ideal when getting ready.
On our first day starting to plan what we wanted to do to the bathroom, checking paint swatches and what not, my husband came home super excited, Home Depot had wainscoting on clearance. I'm not sure where the idea first came from, but we'd talked about the idea of using paneling to some degree someday in the future. This seemed like the perfect time to give it a try.
Before I continue, I would like to point out that all though my dad worked as a painter and did pretty much all our home renovations on his own and my husband's dad works in construction, besides our Adventure in Popcorn Ceilings last year, my husband and I have no home renovation experience.
Having decided to attempt white wainscoting in the bathroom, we went about picking paint and settled on a pretty blue color. Prepping the room to paint, we discovered part of the floor boards near the bathtub had rotted out, so we had to match and replace part of that and decided to add some of that to the base of our vanity. We also had to figure out what sort of molding goes with the paneling we bought (remember I said we have no experience). Somewhere along the process we even ended up replacing our faucet.
I've never written about a personal DIY project, this big, so I'm not really sure the best way to describe the process we went through. With this overall home renovation I have more posts like this coming up and, besides that, I'm having a lot of fun so these may become more common. Hopefully, as time goes on, I'll figure out the best way to do this.
The bulk of the bathroom project took about 3-4 days (we were supposed to go to Utah so my husband had taken some time off from work). Besides having to do anything near the toilet, from painting to paneling, the entire process wasn't too difficult, just a little physically demanding.
The painting was no big deal, we just had to be sure to tape everything very carefully. As I said, we picked a pretty blue color for the walls, and used that same color on the ceiling. For the wainscoting, all molding, and the door, we painted them a nice white.
When it came to the paneling, it all went on fairly easy. Easier than I anticipated, although I did walk away from the bathroom many times saying we had taken on more than we were ready for. We attached the paneling with both liquid nails and nails (the husband got to buy himself a nail gun for this project). The most difficult part was cutting it to fit around a power outlet and the toilet. The molding we picked to go around the top of the panel looked really good, but it as well was a pain to cut to fit around each other in the corners. My husband took the time to do that by hand.
As I mentioned, we finished the project off with a new faucet and I got new outlet and electrical switch covers.
In the end I was super excited about how the bathroom turned out. As with any new paint job, it felt clean, but more than that it felt bright and comfortable and more like me. I now absolutely love getting ready in my bathroom!