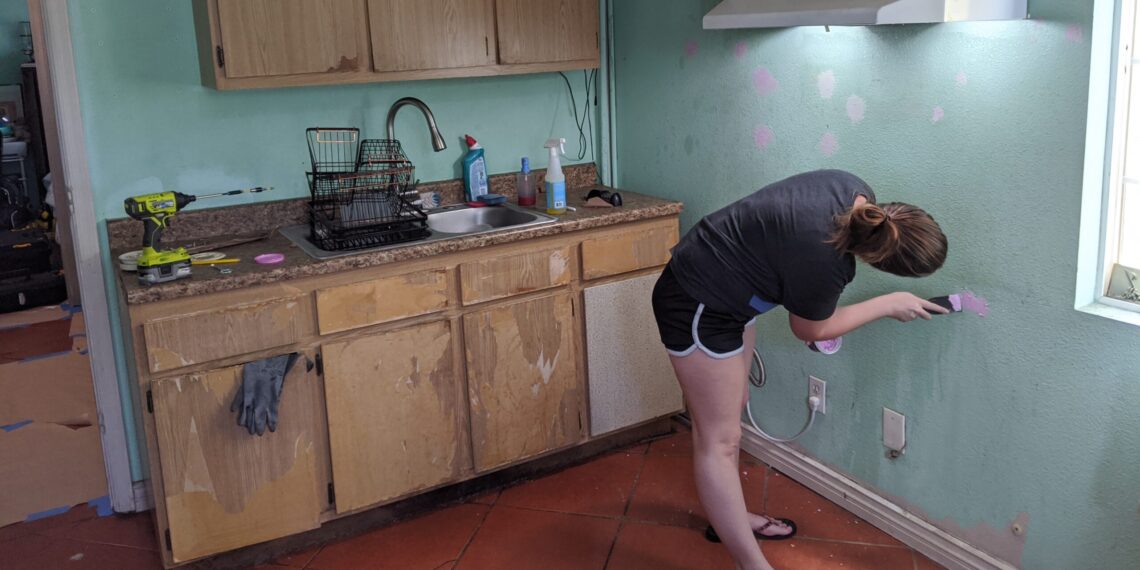 Making Myself at Home – Part 2: Living Room and Kitchen
After completing our bathroom makeover, I felt amazing! So much better than I ever anticipated. My bathroom now brings me joy and after we finished it, I can honestly say it was my favorite room. I liked getting ready in there, I loved taking long showers, everything about the room had improved exponentially for me. And I wanted that for the rest of the house so…we moved on to the kitchen and living room.
Our living room/kitchen is one shared area and it is where we spend most of our time. Before starting, the room was a bright turquoise and our cabinets were a sad brown. Don't get me wrong, I liked the color, it was just very taxing on the eyes.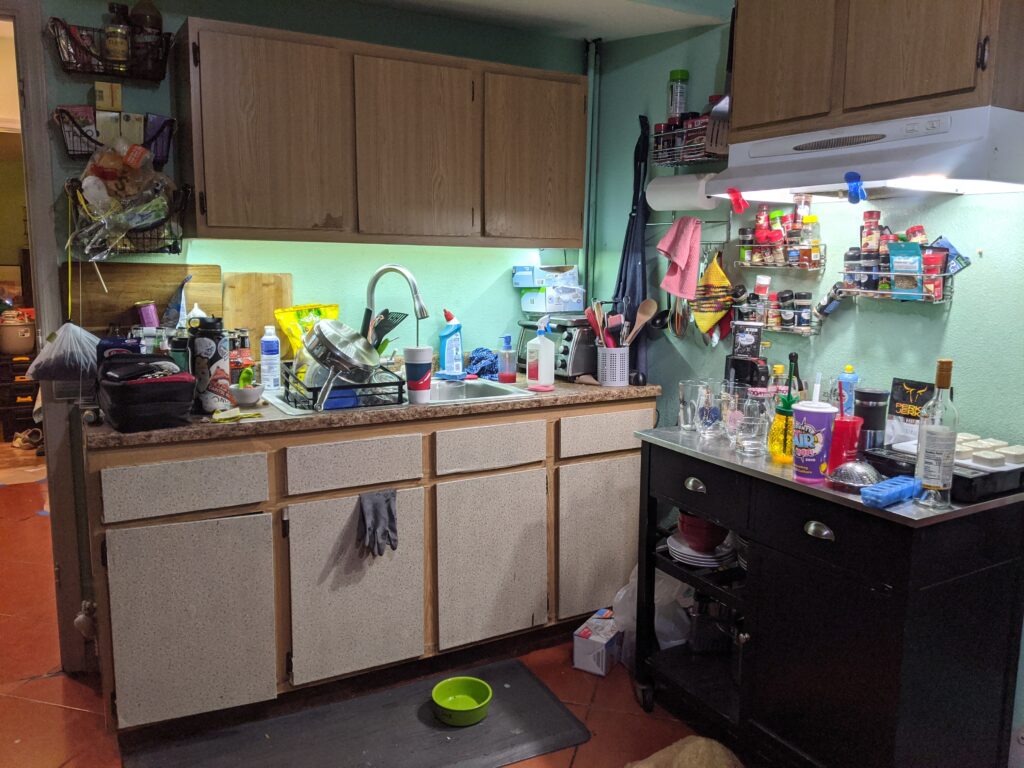 While we were trying to decide how we wanted to tackle the room, our main priorities were to find a way to brighten the room, light is struggle for us in most places in this space, and make it feel more relaxing. In regards to the kitchen, we just wanted to make the cabinets feel fresher and cleaner.
For color, we decided to go with a very pale green for the walls and a bright white for the ceiling and trim. To add some contrast and interest, we decided to refinish the cabinets, such a pain, and paint them a dark grey. To spruce them up a bit more we even added new hardware to give them a more finished look.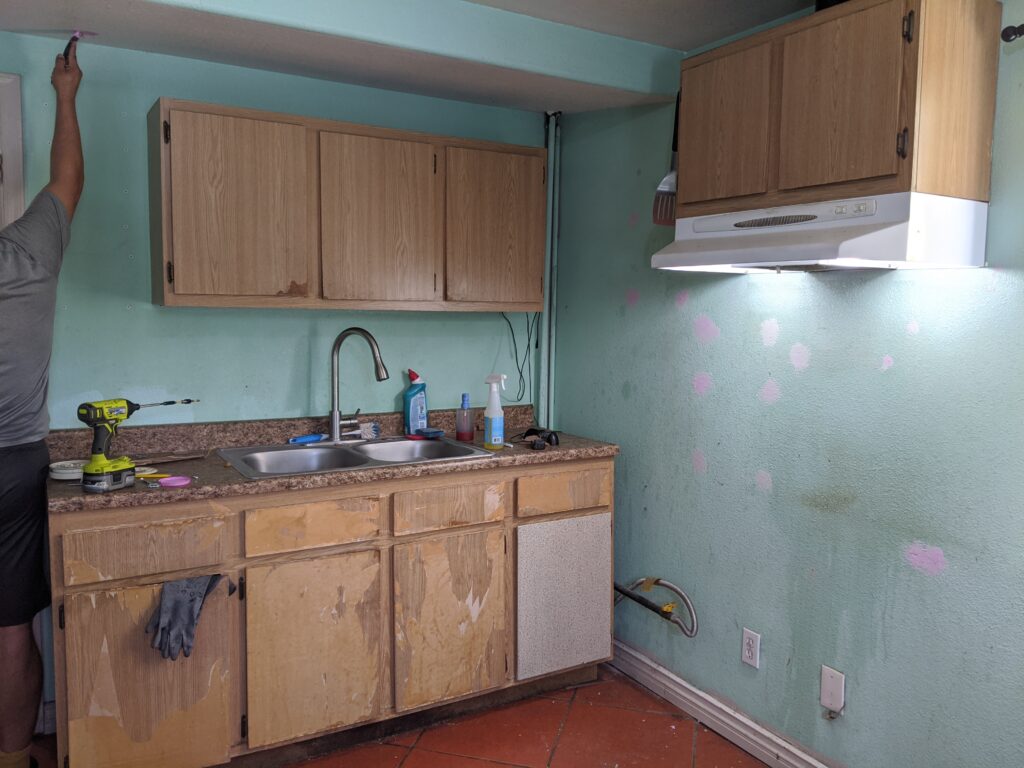 The cabinets were probably the hardest part about the entire space. I actually had to refinish them twice. The cabinet doors had been covered in wallpaper and when we removed the wallpaper it left behind a crazy amount of adhesive which took us forever to sand off. After we sanded off all the adhesive we went to work priming and painting everything. Once we got that done, I made the mistake of leaving the cabinet doors outside, stacked together and if you know how paint and moisture work you can see where this is going.
I woke up the next day to my doors all stuck together. When I had to sperate them, the paint came with. And with that I had to start the process all over again.
Despite how tiny the space is, the husband and I love to cook and we have so many spices, which we had half ass placed racks on the wall for. As we embarked on this renovation we decided we wanted to clean that area up as well, so we built a wood backdrop for our spice racks. We sanded and stained it a light grey and painted the spice racks black.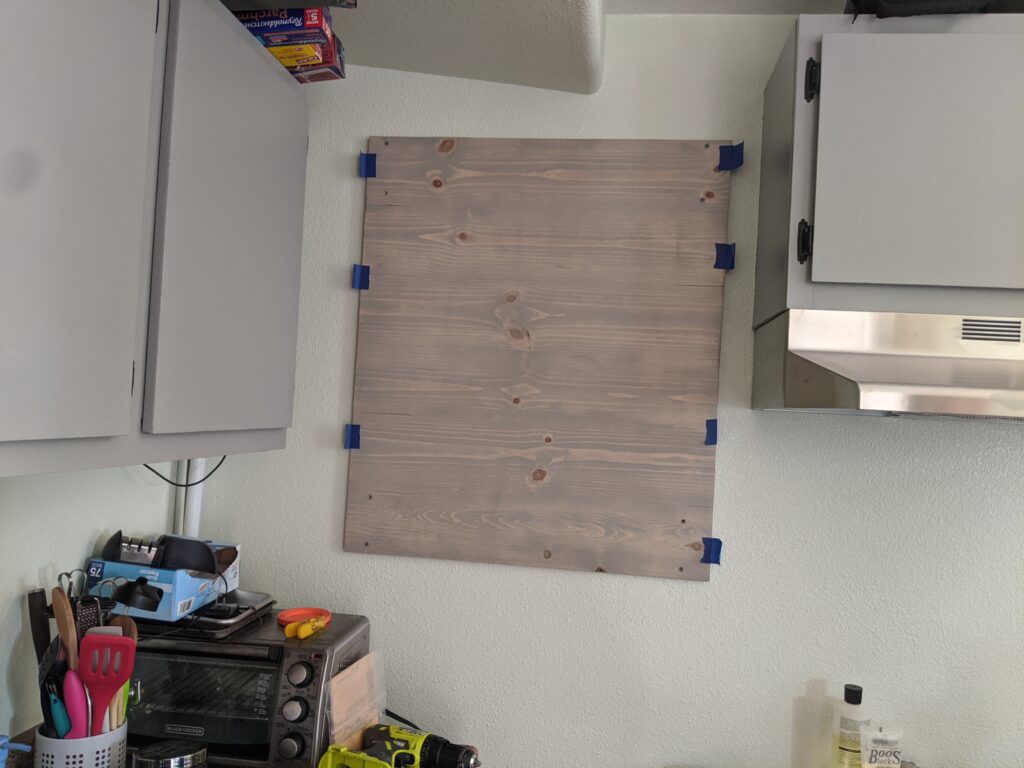 As we were finishing up the space, we stumbled across a large mirror that was being thrown out. Well, in all honesty, my sister-in-law found it and then we found her a better one, also being thrown out, so we could take this one off her hands.
We sanded it and painted it black to contrast with our light walls and match our couch.
Similarly to the bathroom, the living room and kitchen makeover turned out to be a lot more work then I anticipated and it took several days longer than I would have liked, but I can honestly say I am obsessed with how it turned out. The pale green makes the room feel so much brighter, but is still rather soothing and the kitchen cabinets turned out so much nicer than I thought they would. A coat of paint can do magic!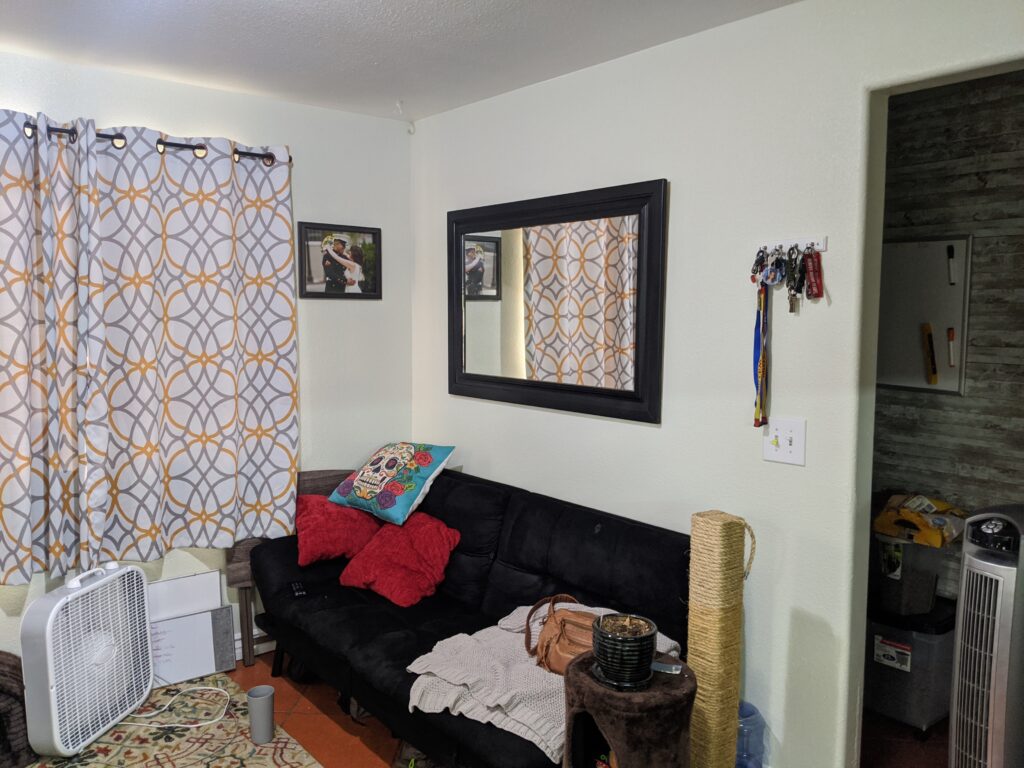 Now onto the bedroom…