Fall in Oahu and AGU Ramen
One of the things I miss the most about living in Hawaii is the fall and winter weather. Having spent my entire life in California, it's not like I know what a real winter is, but I do miss chilly days, boots, tights, and sweaters. Here in Oahu, it rarely ever drops below 75.
This past weekend was filled with those rare Oahu Fall like days. It was chilly, windy, and rainy, and put me in the perfect mood for some nice hot ramen.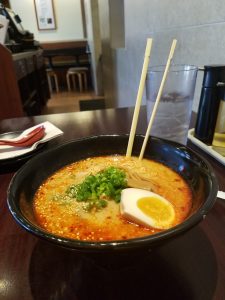 I only began eating ramen after I moved to Oahu, and my road to ramen was paved with many protests towards my husband's request. Ramen did not appeal to me for some reason, nor did I have any interest in giving it a try. That partially probably had to do with me growing up on instant noodles and although I was well aware that true ramen was nothing like that, it tainted the idea of ramen in my head.
After months of persistent requests from my husband, I finally gave in to giving ramen a try and I hated it. The first few ramen places we tried were major disappointments. They were flavorless and boring, but my husband insisted we keep trying. I had almost lost all hope when my husband found AGU Ramen and everything changed. Just one sip of their Spicy Tonkatsu Ramen and my world was transformed.
Their ramen was complex and layered. The flavor was amazing and had just the right amount of spice. The meat was tender and the noodles were perfect.
The ramen is not the only thing amazing about AGU, everything I have ever ordered from there, from their gyoza to their Kicked Up Fries, is amazing. The atmosphere is great for a meet-up with friends or a nice date night. Every employee I have ever encountered at AGU has been friendly and accommodating.
AGU saved me from a life without ramen and set me on the hunt for other great ramen locations. Since trying AGU for the first time, I have gone on to find other great locations all across Oahu, but I always return to my first love, AGU Ramen.
(Not on Oahu, but interested in trying AGU? They also have a location in Texas!)