Where to get the Best Poke on Oahu?
Poke (pronounced POH-KAY) dates back to the ancient Hawaiians who would feast on freshly caught fish massaged with sea salt, seaweed and crushed inamona or kukui nuts. Since then poke has grown and evolved, in some circumstances, drastically. As immigrants from all around the world, and especially places like China and Japan, began arriving in Hawaii, new flavors began to shape poke. While the more traditional Ahi poke is made with tuna, shoyu (soy sauce), sea salt, green onions, Maui onions and limu, visit any poke shop in Hawaii today and you can find a wide array of flavors and options including kimchee shrimp, furikake salmon, miso tako (octopus), pipikaula (dried beef) and bacalao poke (Portuguese dried salt cod).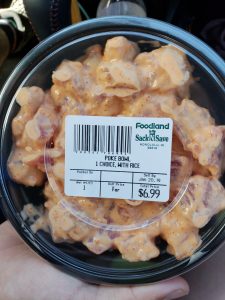 When I first arrived on Oahu, I was very hesitant to even try poke. A large scoop of raw fish atop a big bowl of rice; I just didn't see the appeal and couldn't imagine eating that much fish and feeling good afterwards. Don't get me wrong, I loved my sushi back home in California, but in my head that offered more subsistence. I was wrong, so so wrong. Although my first experience with poke wasn't the best, I tried it at a football tailgating event, I was determined to figure out what the big deal was. The next time I tried poke it was under much fresher circumstances and I was blown away! It quickly became one of my absolute favorite meals on the island and is one of the main things I miss back here on the mainland. (Sorry to burst your bubble, but the poke you get here on the mainland is not poke and does not even compare to the real stuff back in Hawaii.)
Poke can be found all around the islands, so where should you go to get the best poke if you ever find yourself in Hawaii? Google best poke on Oahu and you are guaranteed to find a lot of different opinions including Foodland, a local grocery store and, from my personal experience, a common favorite for many living on the island. I've tried Foodland and it's ok, but my personal go-to and hands down favorite place for poke is Tamura's Fine Wine & Liquors.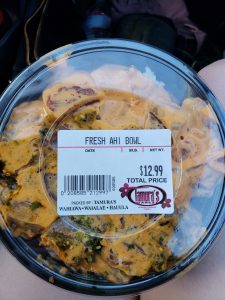 Tamura's Fine Wine & Liquors, part of Tamura Enterprises, Inc. was established in 1995, as a branch of the family's original business, Tamura Super Market. Tamura Enterprises, Inc. now includes multiple liquor stores, the original market and most recently, a restaurant, bar and catering company. Tamura's can be found on Oahu and Maui.
Although there are several locations all around Oahu, my go to was the Tamura's Fine Wine & Liquors Aikahi location. Located right outside the USMC base and right down the street from my home in Kailua, this was the perfect spot for my husband and I to grab a quick lunch or dinner. Whenever family or friends would come to visit and wanted to try poke this is where we went. My go to order was their spicy ahi, with white rice and furikake. My husband enjoyed getting a combination of their spicy ahi and kalua pork when it was available. He also enjoyed their sunrise poke (spicy ahi with what I think was nori and a teriyaki type sauce).