Springtime Temperatures Call for Banan
Spring is in full swing here in SoCal and summer is fast approaching and that means the temperature is on the rise. As the days get longer and hotter I find myself craving a sweet treat in the evening, but nothing here seems to hit the spot like Oahu's Banan.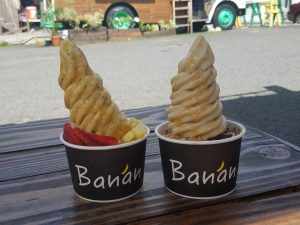 Frozen yogurt, soft serve, I've tried it all and yet I still find myself craving the sweet, cool, amazing creation that is Banan.
Created by four guys with the idea to turn fruit into ice cream, Banan began selling banana based soft serve out of their roadside food truck December 2014. Based on a simple farm-to-table philosophy Banan has grown to four locations across Oahu.
One of my co-workers turned me onto Banan. I don't know if it was after a run or a yoga class, but she came back after a weekend, raving about how amazing this Banan place was. As a vegan, she had told me plenty of times about her own homemade adventures in banana ice cream, but she said this was banana ice cream on a whole new level. She convinced me. I added to my ever growing list of places I needed to try.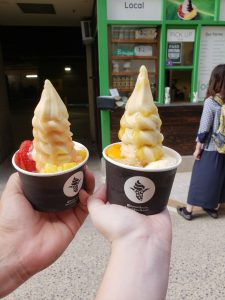 It took me a few months before I finally got to give Banan a try, but I finally made it over while on my way to the 2018 Lantern Floating Festival. It was one of the best food decisions I have ever made!
My husband and I decided to take the scenic route into Waikiki for the festival, which gave us the perfect opportunity to stop at Banan's original location near Diamond Head. Before even trying the soft serve, I was blown away by the service and atmosphere of this roadside food truck. The employees working were super friendly and helpful, explaining our different options. And the food truck offered gorgeous covered areas to relax and enjoy yourself.
My husband ordered their Chunkadelic which is banana Banan, mac nut honey butter, dark chocolate, shaved coconut, and honey. I'm not a huge fan of chocolate so I didn't try it, but he seemed very happy with it. I ordered their Liliko'i Cruzer, which is lilikoi Banan, pineapple, strawberries, puffed quinoa, coconut, and honey. I loved mine! It was refreshing and just the right amount of sweet. All the flavors blended perfectly and the portion was just right.
Before leaving Oahu, literally during our last month, my husband and I ended up in front of the Banan Waikiki Beach Shack and couldn't help but get one more serving before we said goodbye to the island. This time my husband ordered their Guava Jams, banana Banan, guava jam, pineapple, strawberries, and coconut. Now I'm not a huge fan of guava so I wasn't a huge fan of this, but once again he seemed to really enjoy it. I ordered the Locals Only, banana Banan, mac nut honey butter, papaya, pineapple, banana, and honey. Again everything about this was perfect and I sadly devoured it way too quick.
If you ever find yourself anywhere on Oahu, I highly recommend you make the time to take a pit stop at any one of the Banan locations!