H3 Summit Saddle – Preparing for the Stairs
Stairway to Heaven is probably one of the most popular, illegal, hikes on Oahu and from the minute I arrived on Oahu, my husband started harassing me to do this hike. I can't deny I was drawn to the stairs climbing up the side of the Koolau mountains and would stare at them every time we took the H3 into town, but I heard too many horror stories.
To start off, even before I had arrived on Oahu, the neighborhood, where hikers would access the stairs, had hired private security to stop hikers from entering and to report any illegal trespassing. Supposedly the guard is or was easy to bypass and would often look the other way, but I wasn't willing to risk getting caught and/or being ticketed with a hefty fee. On top of that, in the short time I was there, I heard stories of more and more people taking trail security into their own hands. One of the worse stories I heard was the story of a Utah man who fell trying to access the trail and was pierced in the neck by a nail that was part of a handmade "trap." I wasn't willing to risk my life for this hike.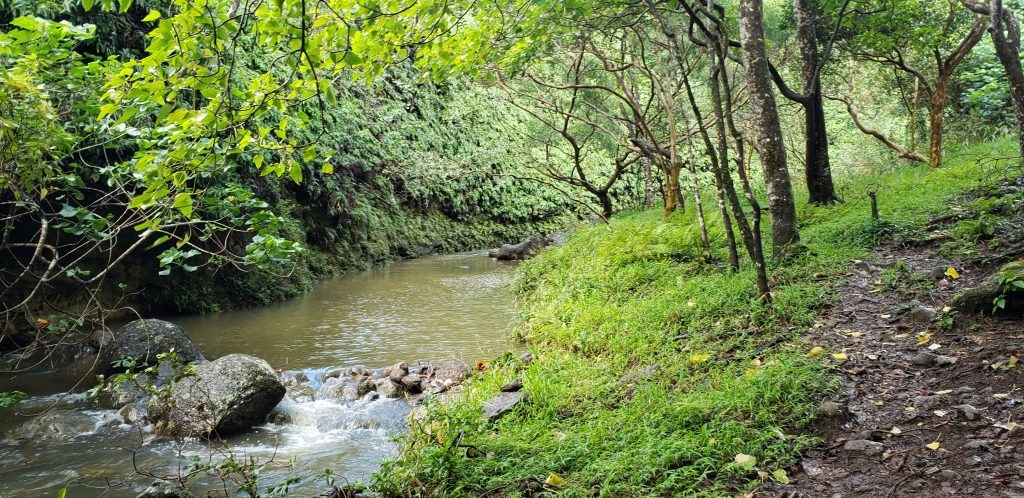 Now, if you are desperate to see the view from the top of the Haiku Stairs there is a legal way to get to the top. A back way. The Moanalua Valley Middle Ridge trail to Haiku Stairs. This trail is about 10 miles round trip and is rated difficult.
I promised my husband before we left the island I would hike the legal way to the stairs, however, because it is such a long and dangerous trail I wanted to work my way up to it. Prepare myself for it. That ended up taking our entire time on Oahu. The Haiku Stairs was one of our very last trails to attempt. Also, before hiking to the stairs I wanted to try a similar, but easier trail. That is where the Kulana'ahane to H-3 Summit Saddle trail came in. This is also an approximately 10-mile round trip hike, that starts off on the same trail as the stairs and takes you up to a similar point.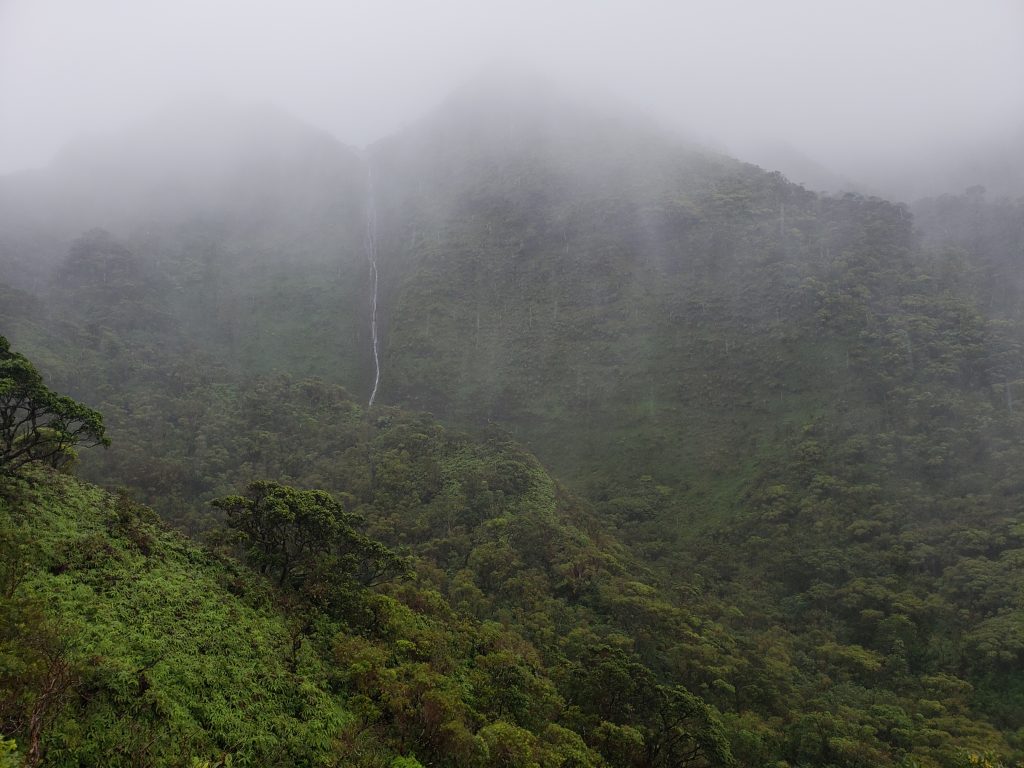 My husband and I spent our Christmas Eve (2018) doing this hike and I must admit I regretted every moment of it. The trail is similar in distance and terrain, but it was not easier and I was definitely not prepared for it. The hike ended up being 9.7 miles round trip and took us over 8 hours to complete (6 hours moving according to my AllTrails app). Reviews of the trail reported lots of water crossings, we lost count somewhere 25, so our feet were nice and soaked. Also, what made this hike extra difficult, about halfway through the weather turned and we got rained on… a lot. A smart person would have stopped and turned back, but my husband and I were frustrated, stubborn and not in the right mindset to make smart decisions. We pushed on to the end hoping the weather would clear up (the rain did stop, but the clouds never broke). We made it safely to the top, soaked, cold, and exhausted. To make things even worse, the clouds were so thick at the summit, we couldn't even see beyond a few feet.
On the way back down, I experienced one of my scariest hiking moments ever. Cold, miserable and wet, I lost my footing and slipped. Thanks to just a few thick bushes along the ridge and my death grip on a rope I didn't die, but things could have been much much worse.
Although I am sure this hike does offer amazing views under better weather circumstances, I don't recommend attempting this hike. There are other hikes on Oahu that are more fun, less dangerous, and offer gorgeous views as well. I can only really see attempting this hike if you are looking for a physical challenge and have already grown tired of the other hikes on the island.
*Click below if you'd like to see the video of my fall. My husband likes to record all of our hikes in hopes of possibly making videos of our hikes and just happened to catch it all on camera. Just one note to make, unless you are from Hawaii or have hiked ridge hikes in Hawaii you may not understand how much danger I was actually in. Everyone in Hawaii that has seen this video gasps when they see me slip, while everyone back home in California that has seen this simply goes, "that's not too bad."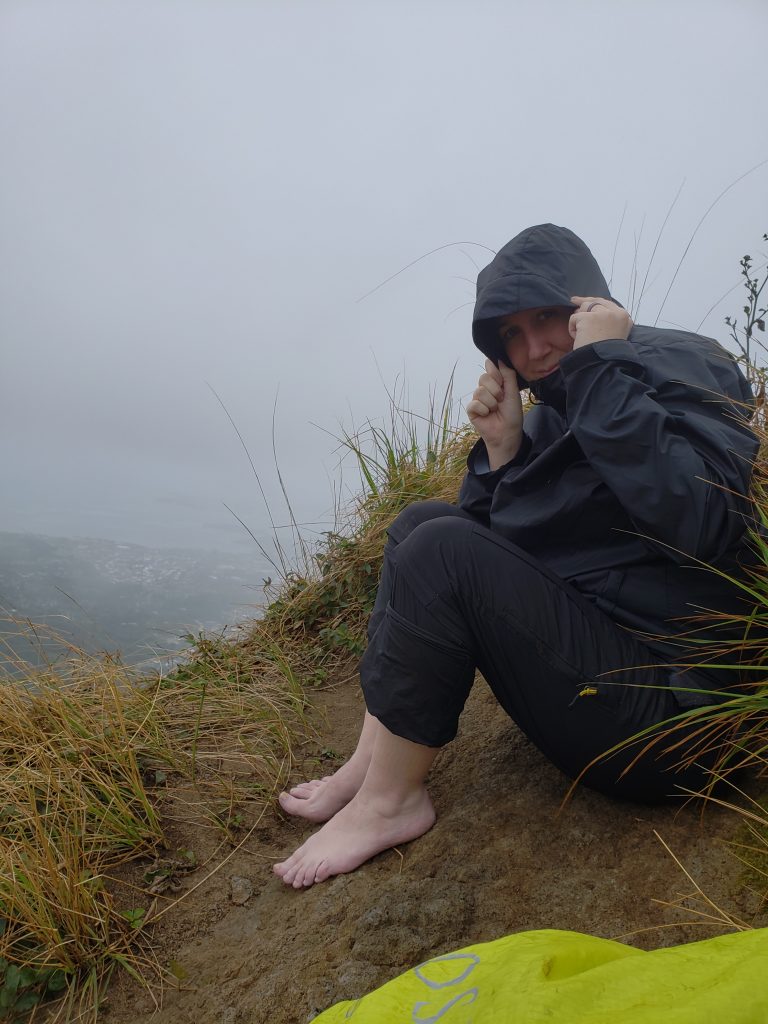 *This hike is challenging and dangerous. I am not advising nor recommending that anyone attempt this trail, I am simply sharing my experience.