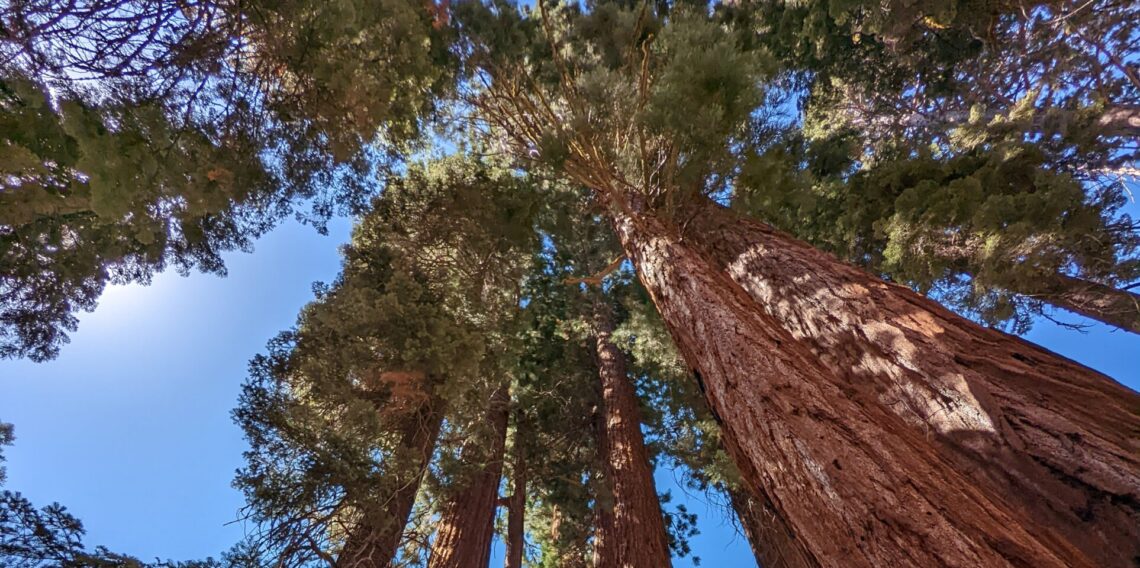 My 2-Day Trip to Sequoia & Kings Canyon National Park
I am so excited, I get to check another item, a big one this time, off of my 2022 Bucketlist! For our wedding anniversary this year, my husband and I spent two days in Sequoia and Kings Canyon National Park. Two parks neither of us had ever been to and it was so much fun!
Now two days isn't that much time, especially to explore two different (although connected parks), but I think we did a pretty good job of seeing a lot, and I want to share with you exactly what we did, in case you find yourself with only a few days to explore these amazing parks.
Travel Day – Unofficial Day
I guess I'm cheating a little by calling this a two-day trip. We did only spend two days in the park, but we got a head start by driving out the evening before. We drove from our home in LA County up to a hotel in Porterville, a town about two hours outside of Sequoia National Park.
I've never really been through central California. I've driven both the PCH and somewhere along the Nevada-California border. I've also driven to San Jose once, but that was a night drive. So this was really the first time I got to see that part of this state I've called home my whole life. It was really quite pretty.
It was just starting to get dark when we got off the highway and started driving through all the orchards on your way into Porterville, but it was still enjoyable.
We got to our hotel, probably around 8. We checked in and then made a Walmart run for some snacks. We enjoyed some TV and then knocked out with plans to get an early start the next day.
Day 1 – Sequoia National Park
On day 1 we woke up, early, not as early as we had planned, but early. Probably about 5:30 am. We packed up the car, checked out of our room, grabbed some gas and breakfast from the slowest Jack in the Box in the world, and started our trek to Sequoia.
With all our pit stops, the drive took a little over two hours.
Upon entering the park we took the obligatory picture of the entrance sign and then proceeded up to our first stop, and our parking for the day – The Giant Forest Museum and Visitor Center.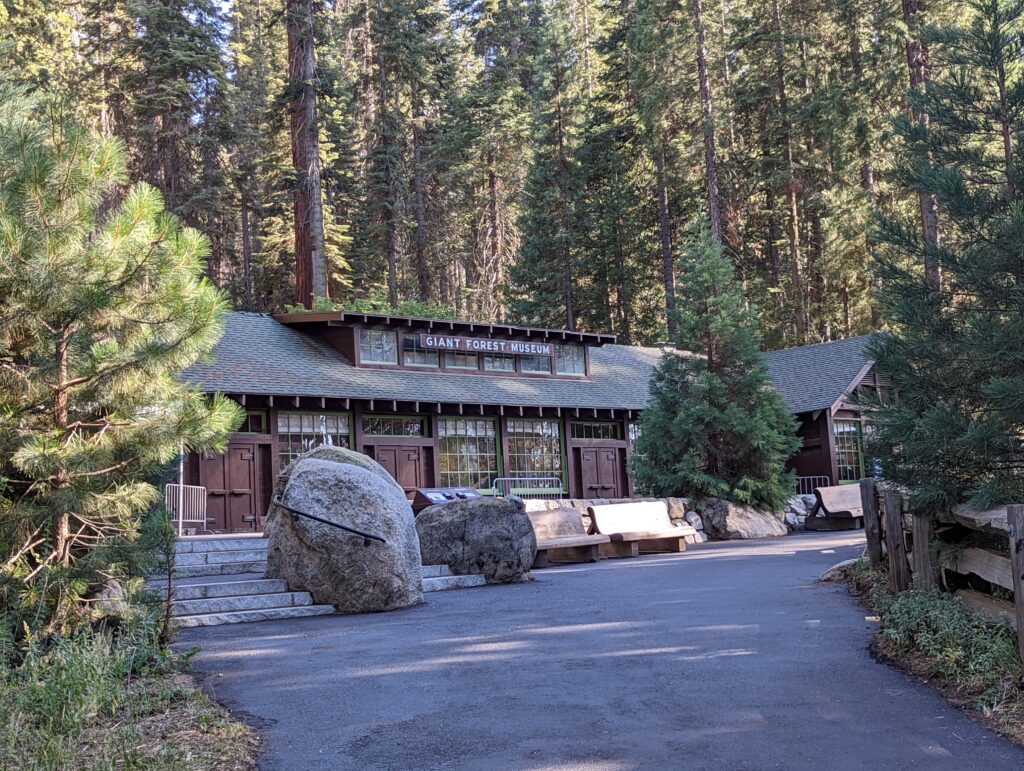 Because I knew there was no way we would be able to do everything we wanted, I refrained from doing too much research pre-trip. I didn't want to be let down by missing out on anything and decided we'd be better off just "going with the flow." However, I did do enough research to find out that there are shuttles that run throughout the park for free, so you don't need to drive everywhere. I also knew that there was a lot to do, tons of trails and different things to see, right around the Giant Forest Museum. So that is where we decided to start our day.
Once we found parking (it does get packed pretty quickly on the weekends and we were visiting on a Sunday/Monday, so try to arrive early when you visit) we headed over to the visitor center and began to fully explore the map.
We decided to start off we would –
Take a park shuttle up to Moro Rock and hike Moro Rock
Jump back on the shuttle and check out Tunnel Log
Then take the shuttle all the way up to Crescent Meadow for some hiking
Moro Rock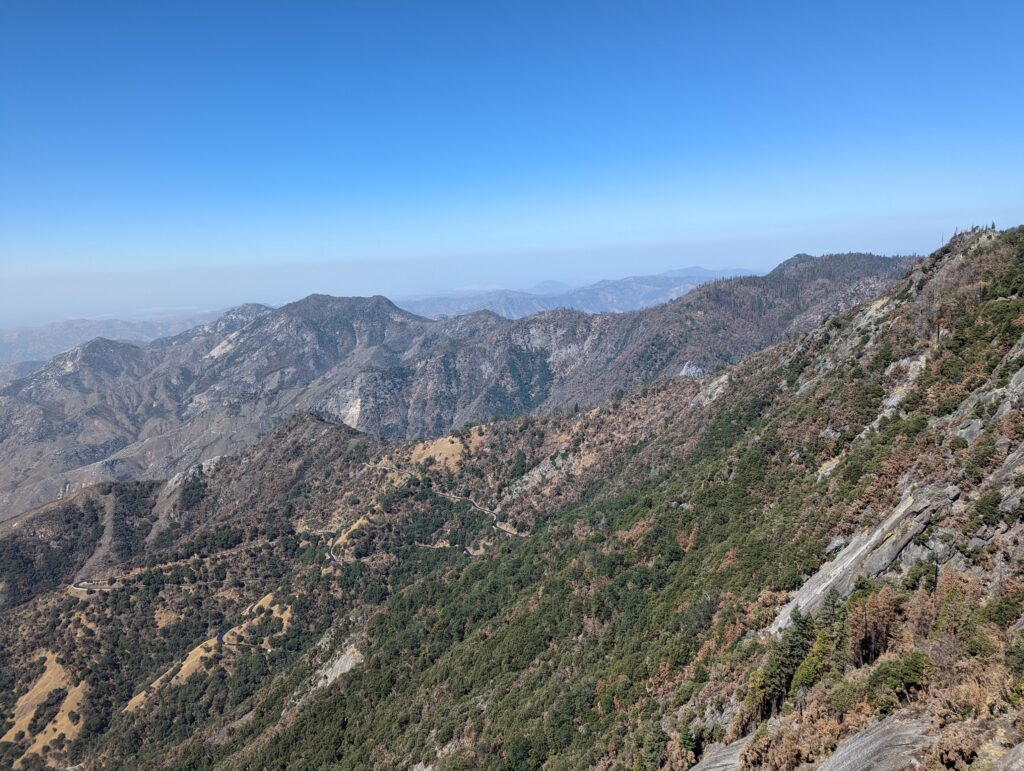 Moro Rock was our first real stop and first hike of the trip. Because we've never been up there, I'm not going to say I regret the hike, but I will tell you…you can skip it if you want.
Moro Rock Trail is a 0.5 mile out and back hike, straight up a mountain/rock. It is rated moderate on AllTrails and that seems accurate. It's really very steep and the elevation doesn't help things. I needed to stop and catch my breath multiple times.
The top of the trail gives you a 360 view of the valley. Pretty, but hazy, at least on the day we did it. In my personal opinion, you can get better views driving through the park.
Tunnel Log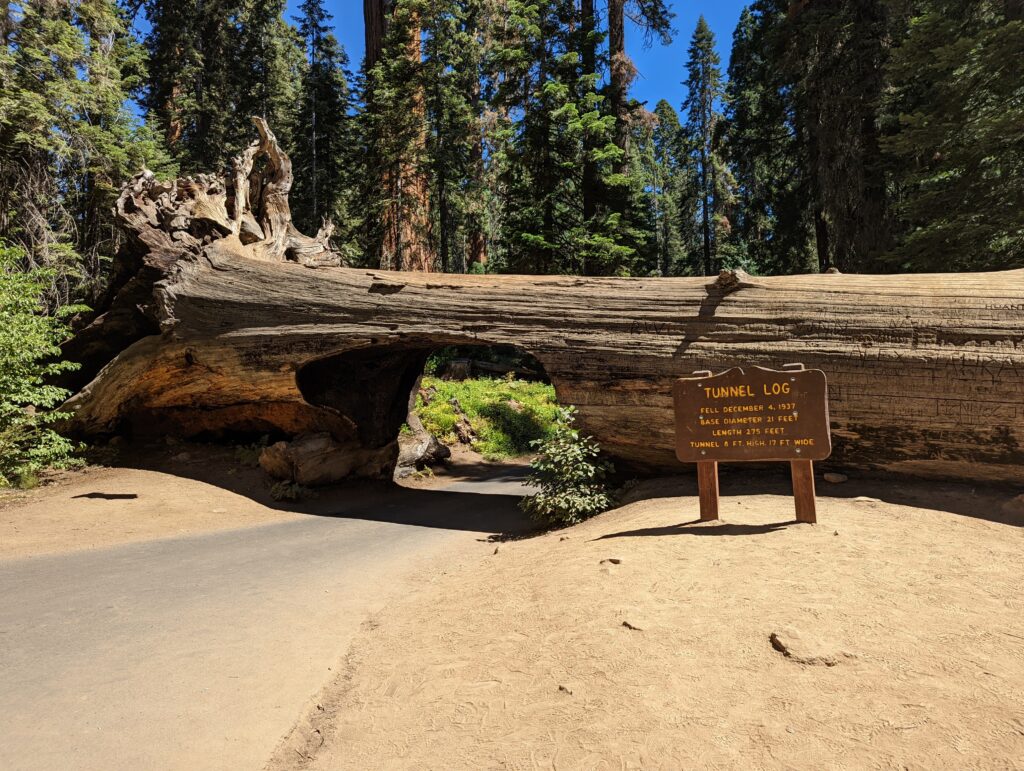 Once we finished the Moro Rock Hike we jumped back on a shuttle and headed towards Cresent Meadow. On the way to Crescent Meadow, you pass by Tunnel Log. This is a sequoia that fell over the road and a tunnel was cut through it for passage.
On the weekends the road is closed to the public and can only be accessed by shuttle, but my understanding is that during the week you can drive your vehicle through the tunnel.
We made the decision to get off the shuttle and check it out up close but looking back now this is another way you could save some time. It's cool to see up close, but not really worth the time spent waiting for the shuttle to pick you back up…in my opinion.
Crescent Meadow – We got lost…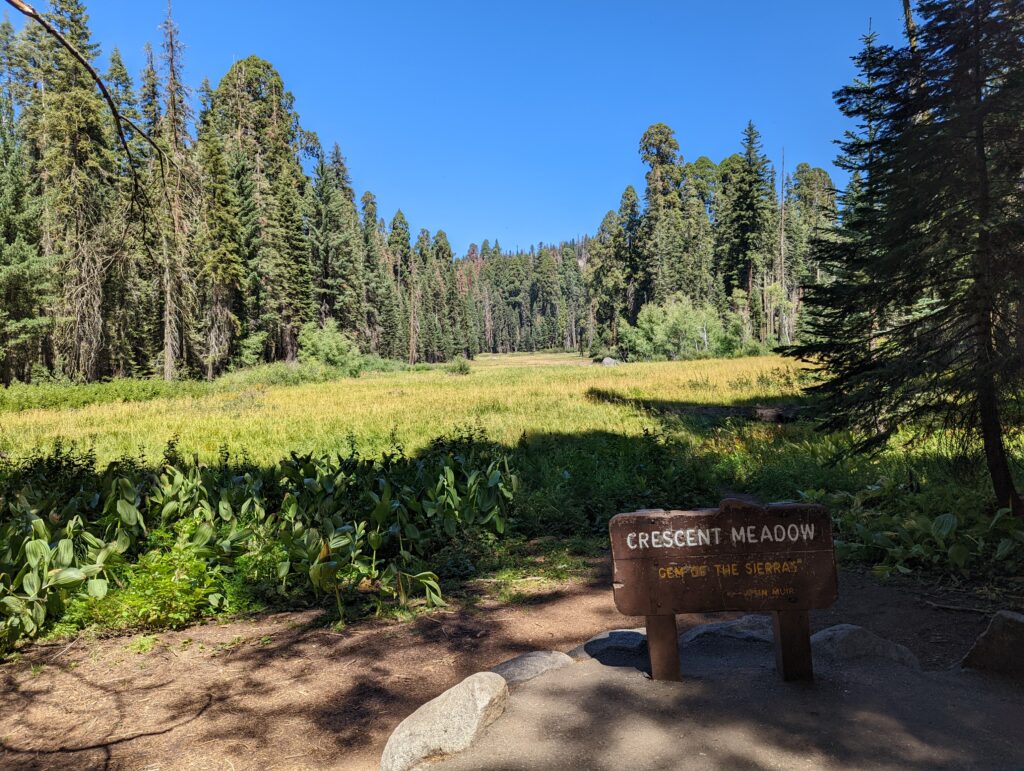 Warning before you precede, this section is going to be a mess because we were a mess.
Crescent Meadow was our chance to finally hike. There are a ton of hikes that branch off from here and we decided we would do the Crescent Meadow Loop and check out Tharps Log while we were at. As we made our way around Crescent Meadow we began to see signs for different hikes, one of them being the General Sherman Tree. The sign said 2.5 miles (I think. I could be off on that, but it wasn't very far.) and this was one of the spots we wanted to check out when we got back to the visitor center. The distance wasn't far so we decided, since we wanted to see as much as we could, we'd hike there rather than wait for the shuttle.
Big mistake.
If we could do it again, we would stick to the Crescent Meadow Loop, actually, visit Tharp's Log (because we never made it) and take the tram back to the visitor's center and explore from there.
Although we saw some gorgeous things on our hike, we did get lost. The signs we were following kept changing and we had to backtrack several times. My husband recently bought a Garmin watch and that thing saved our life. Thanks to the watch we could at least see where we were in the park and other trails around us. We couldn't read distances, but at least it kept us headed in the right direction.
We never made it to the General Sherman Tree, on foot, but we did finally make it back to the visitor center after about 5 miles.
We were able to explore a few things around the visitor center, but being lost for so long really threw us off.
General Sherman Tree
Finally, back at the visitor center, we jumped on another shuttle, this time headed towards the General Sherman Tree (since we failed to make it by foot).
The General Sherman Tree is the world's largest tree, measured by volume. General Sherman is 275 feet tall, and over 36 feet around at the base. Even 60 feet up, General Sherman is 17.5 feet still around. This tree is massive and I highly recommend taking the time to see it, but it does get busy.
By this point we were starving, we'd been living off of granola bars and beef jerky all day.
Lodgepole Visitor Center
I'd remembered hearing someone mention that the Lodgepole Visitor Center had food and we needed some real food, so from the General Sherman Tree we hopped on yet another shuttle and headed up to the Lodgepole Visitor Center.
At the Lodgepole Visitor Center, we were able to grab some sandwiches, energy drinks, and other snacks. It was so nice to have real food.
There was a waterfall hike near here that we really wanted to do, but it was getting pretty late in the day. That night I had booked a campsite on Airbnb and I wanted to make sure we got to the campsite with enough daylight to set up. We still needed to get back to our car and the drive to the campsite, which was right outside Kings Canyon was going to be about 90 minutes.
We decided to jump back on the shuttle and head back to our car so we could head out to find our campsite.
Our Airbnb Campsite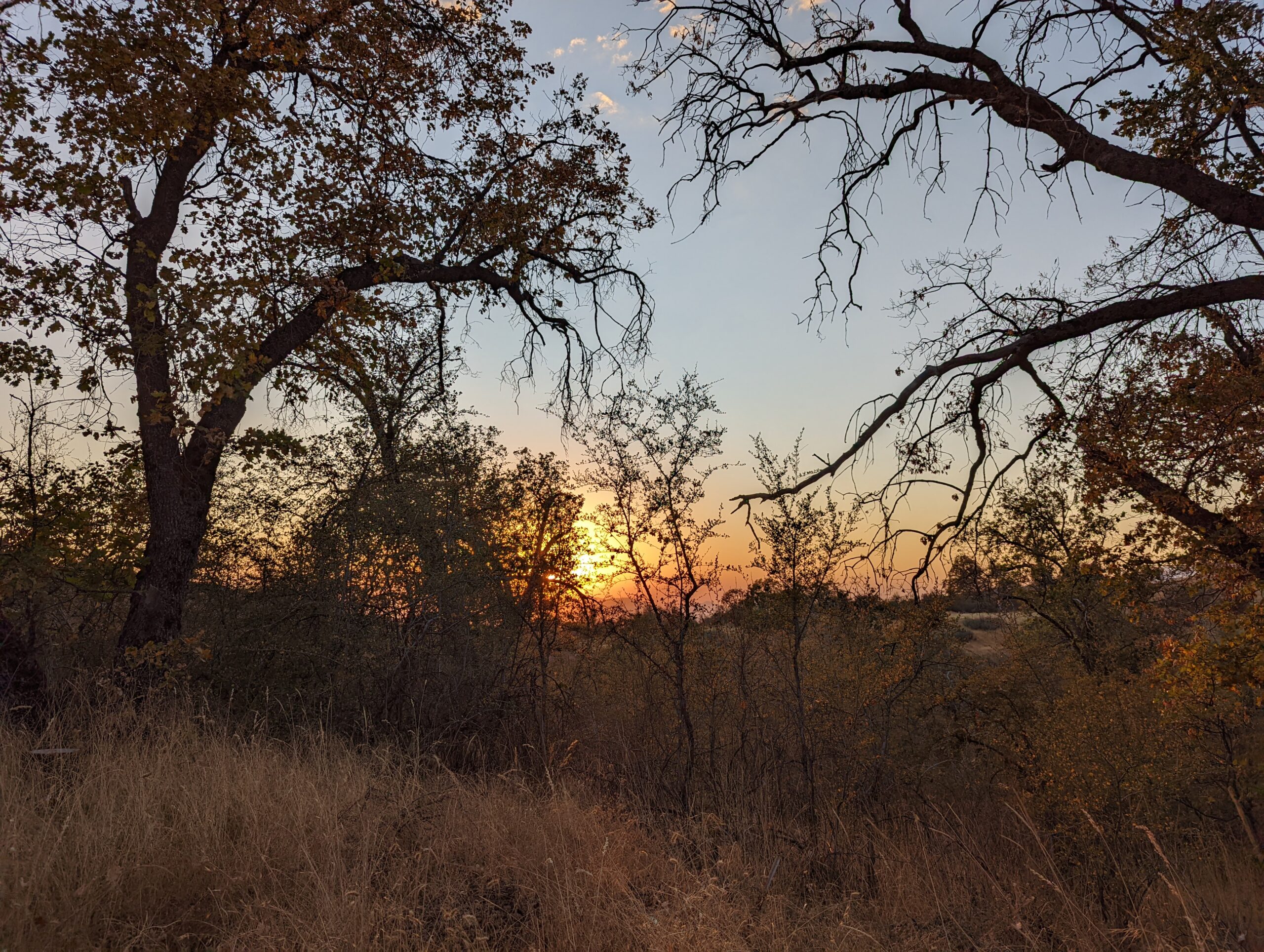 For our official night in Sequoia, we decided to camp out. Initially, I had been looking for an Airbnb to rent near the park, but then I stumbled across a $40 campsite on Airbnb, and well…you can't beat that price.
Although I was a little nervous about booking a campsite on Aribnb, the campground ended up being amazing! The campground was about a 90-minute drive from the visitor center we had parked at and the campground was a first come first serve situation. It was essentially an empty plot of land broken up into sites where you can park your car and camp. (On the property there is also a house and RV spaces which I think are also listed on Airbnb.) On site were also "toilets" and showers.
The night we stayed there the property was pretty empty. I'm not sure about the house and the RV lot, but the campground area I think had three or four other groups, so we were able to pick a pretty secluded spot on the edge of the campground.
It was so pretty and quiet. We set up the tent and were able to experience a pretty amazing sunset. The stars were the best part though. The night sky was so clear! I'm in love and I can't wait to go back!
Day 2 – Kings Canyon and More Sequoia
We slept so good that night. Honestly better than we had in the hotel. Probably thanks to a combination of clean air and exhaustion, but nevertheless we work up early and refreshed.
We made some breakfast, packed up our site, and headed back into the park, this time headed towards Kings Canyon.
The Scenic Byway
When we first entered the park we made a quick stop at the Kings Canyon and Grant Grove Visitor Center, to use some real toilets and running water. We contemplated grabbing more breakfast, since there was a full restaurant with actual hot food, but opted to save our money for lunch. Once business was all taken care of we hoped on the Scenic Byway to head on into Kings Canyon.
Reading about it, you may think that the Scenic Byway is an option, but if you plan on going all the way into Kings Canyon, it is your only option, but don't worry, it's gorgeous.
Not to ruin my wrap-up at the end, but overall my husband and I did decide we enjoyed Sequoia a bit more than Kings Canyon, but the byway was a gorgeous drive that left me in awe the entire way. I'm honestly not even sure how to describe it, you'll just have to experience it for yourself.
Roaring Rivers Falls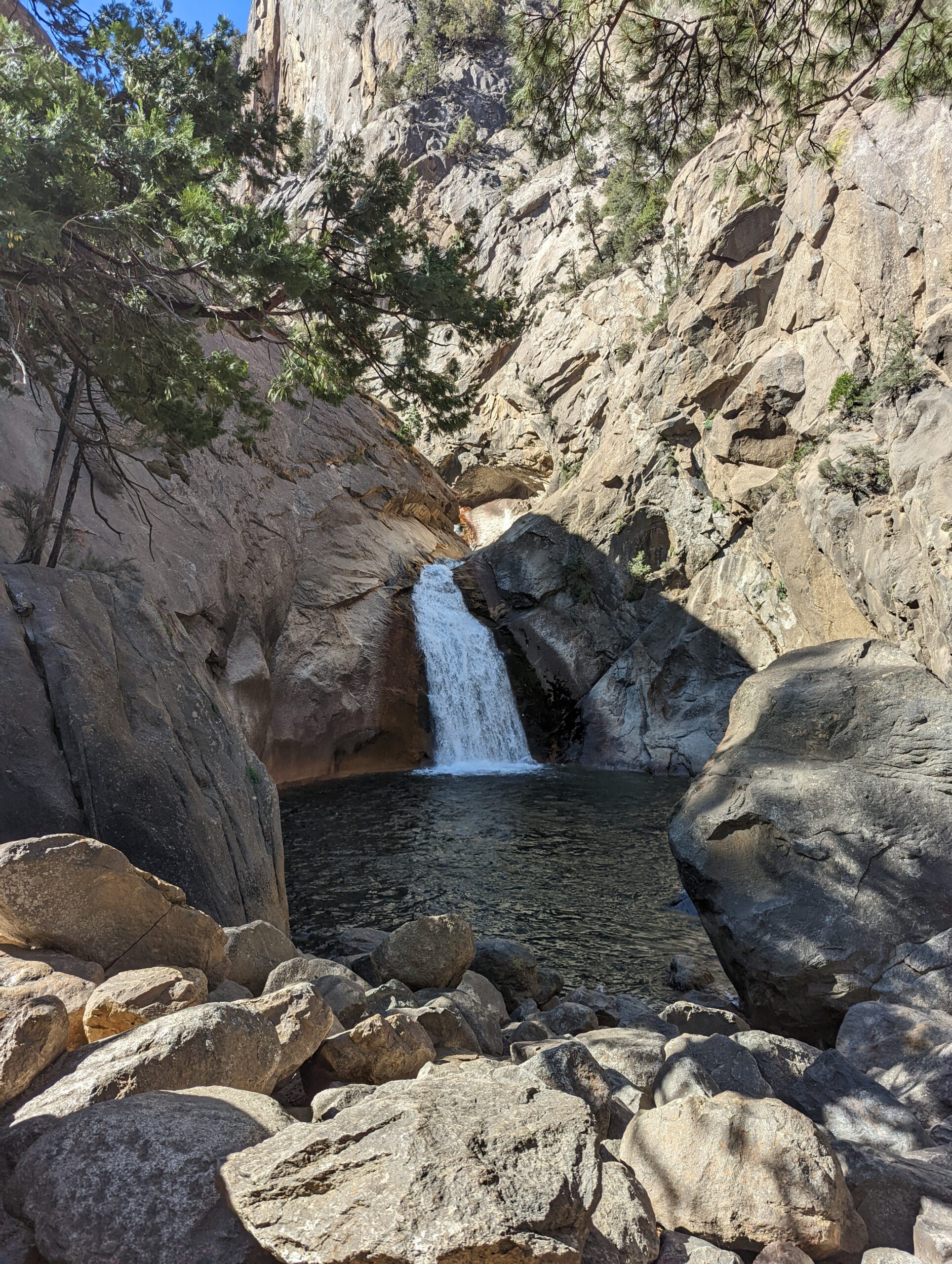 Our first stop and "hike" of the day. I put hike in quotation marks because it's really more of a nature walk was Roaring Rivers Falls. According to AllTrails, Roaring River Falls is an easy 0.3 roundtrip trail. It's really just a paved path up to a waterfall.
The fall was flowing nicely and the area around it was gorgeous, but I wasn't blown away. I'd say it's a nice stop while you're in the park, but you probably won't be spending too much time there.
Zumwalt Meadow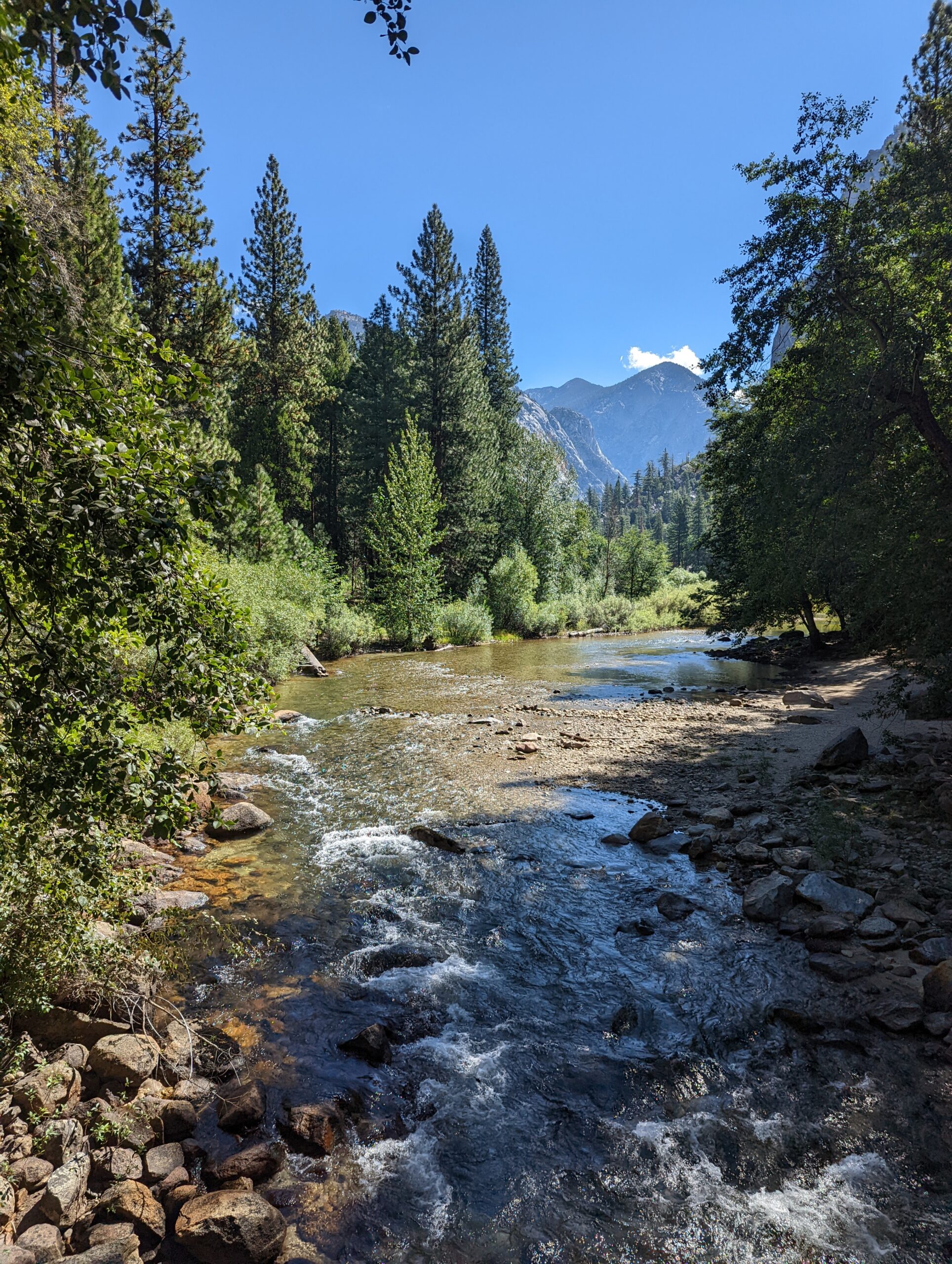 Our next stop was Zumwalt Medow. A hike that kicked my butt for no reason. Zumwalt Meadow is a 1.5-mile out and back trail rated easy on AllTrails. And it is easy but due to a rock slide, there is some climbing and uneven ground. If it wasn't for the general elevation that I'm not used to and it being our second day, it probably wouldn't have winded me so bad.
Despite it challenging me more than I anticipated, it was a really pretty hike that offered some really nice scenery and photo ops.
But by the end of the hike, I was starving and needed food. To hold myself over I downed two granola bars and a Lunchable before we set off for some real food.
Cedar Grove Visitor Center
Signs showed food at the Cedar Grove Visitor Center, so that is where we headed for lunch. Because we were visiting towards the end of the summer season I was worried the restaurant wouldn't be open but figured worst-case scenario they'd have refrigerated sandwiches like we grabbed the day before in Sequoia.
Luckily the restaurant was open and we pigged out. We ordered a burger and a grilled cheese from the restaurant then grabbed drinks and ice cream from the store next door. The hot food tasted so nice!
By this time we were basically at the end of Kings Canyon and it was only about 1 or 2 o'clock so we decided to head back towards Sequoia, and check out a few more spots in Kings Canyon on our way out.
Unplanned Tour Cave? Why Not?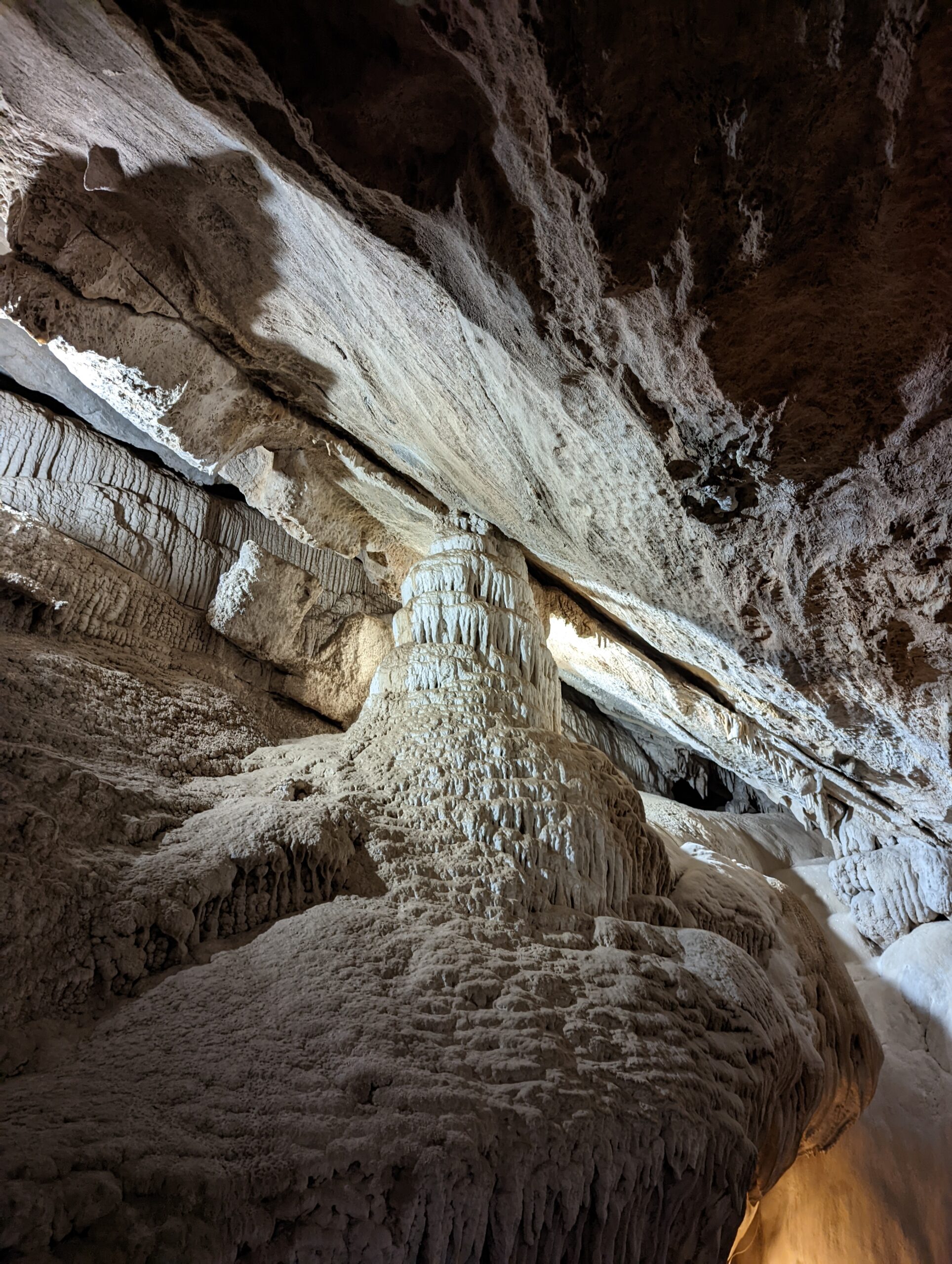 Our first stop on our way out of the canyon, Boyden Cavern. We had seen the cave on our way into the canyon but weren't really sure what it was, so on our way out, we decided to pull in and check it out.
We pulled into the cavern parking lot at 5 past the hour, only to learn that they offer cavern tours every hour. The man in the gift shop let us know that the tour had just left, but if we really wanted to go he could radio up to the cavern and they could hold the tour while we ran up. We were shocked to find out that tour tickets were only $16 per person. We were expecting a lot more, so we decided, spur of the moment, to do it. We paid for our tickets and tried to book it up to the cavern.
The cave tour is pretty easy, but getting to the cavern opening is pretty steep. It is short though so I'm certain if we hadn't been rushing to catch up with the tour group waiting for us, it wouldn't have been much of a struggle at all.
So what is Boyden Cavern? Boyden Cavern is a marble cavern filled with stalactites, stalagmites, and more! It was really pretty cool, both figuratively and literally (Since it is a marble cave, the temperature in the cave is significantly cooler than out in the elements.) If you like rocks or caves or just want to try something different, I highly recommend making this stop. The tour has a lot of information and is only about 45-55 minutes long.
The General Grant Tree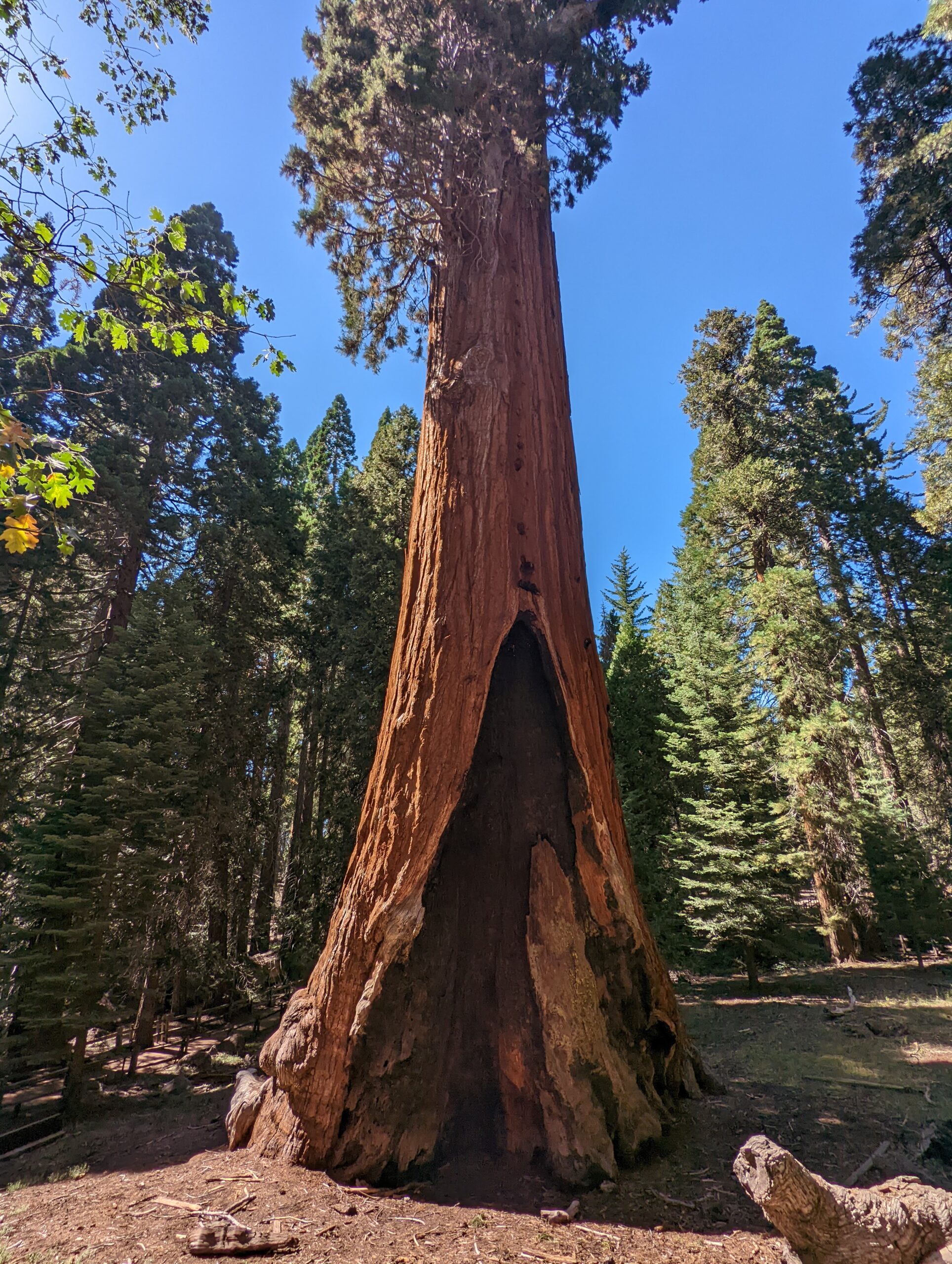 Our final Kings Canyon stop was the General Grant Tree. General Grant is the second largest sequoia in the world and the largest in Kings Canyon. The tree is 267 feet tall and 29 feet wide at the base.
Like the General Sherman Tree, the General Grant Tree trail can get pretty crowded, but I still recommend checking it out, at least on your first visit. The tree is giant and impressive, and along the trail, you can check out some other cool things. There is a historical Gamlin Cabin and a fallen tree you can walk through.
I personally enjoyed General Grant more than General Sherman.
Tokopah Falls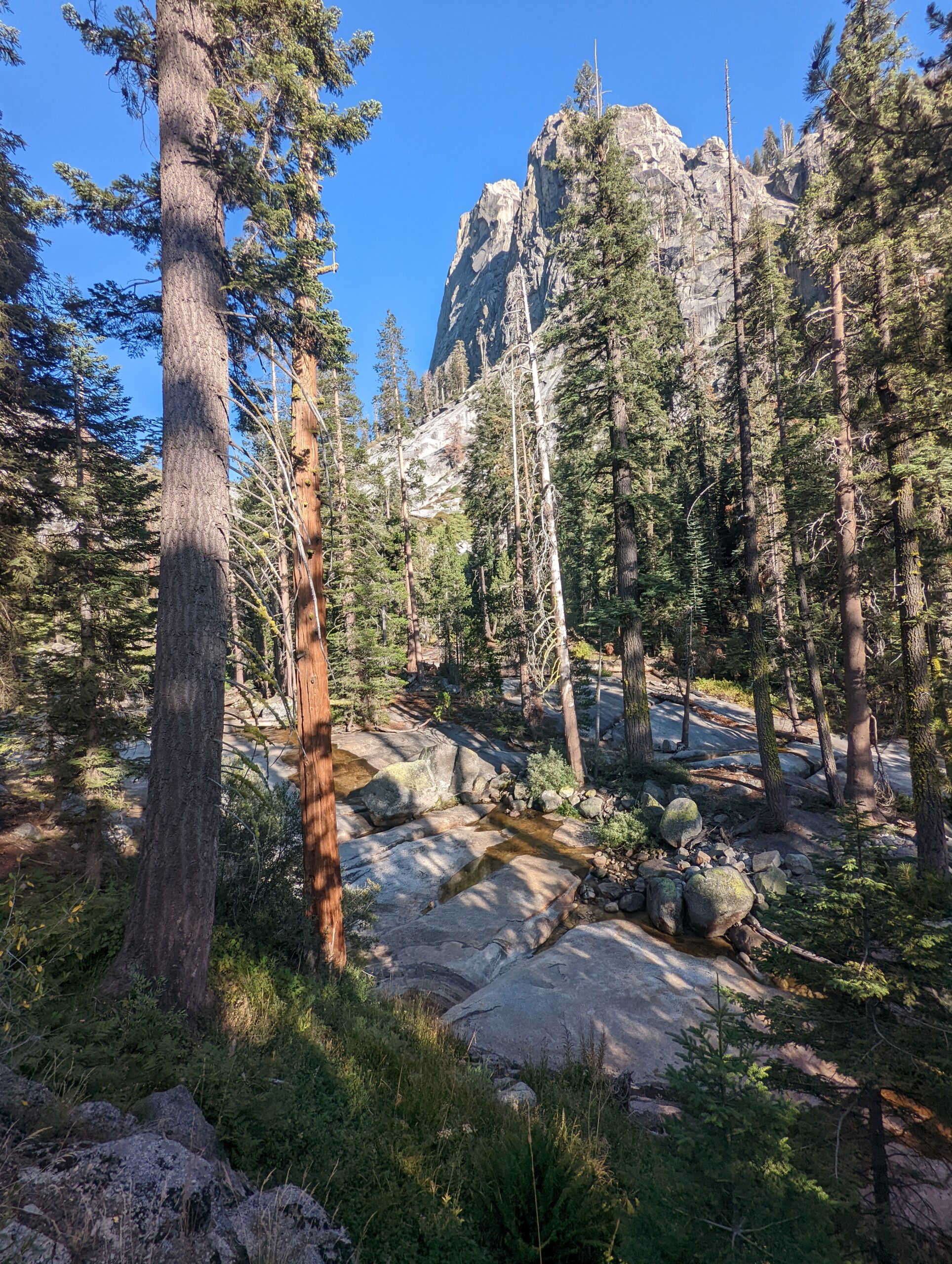 After we explored the General Grant area, we headed back into Sequia for our final adventure of the day, Tokopah Falls.
We had originally planned on hiking Tokopah Falls on our first day but ran out of time.
We arrived at the Tokopah Falls trailhead with about 2.5 hours until sunset. The trail is an estimated 2-hour long hike and although at this point we started to feel the strain of the past two days set in on our feet, we decided that we didn't know when we would be back and decided to power through.
Tokopah Falls is a 3.8-mile out-and-back trail rated moderate on AllTrails. The trail luckily doesn't have too much of an elevation gain and travels along the river through some gorgeous trees and meadows. If I wasn't so exhausted, I'm sure I would have loved it.
We should have expected it, given California's historic drought and it being so late in the season, but the falls we were hiking to, at the end of the trail, were nothing more than a trickle. That was a bit of a letdown, but I was still proud of myself for powering through.
I took a good look at the trickle and then we turned around and hiked back out.
We made it back to the car, starving (we hadn't eaten anything but granola bars since lunch), exhausted, and proud of ourselves. The sun was just getting ready to set.
We peeled off our shoes, grabbed a few more granola bars, and then loaded into the car for the long drive home (with a quick pit stop at a Jack in the Box before we jumped on the highway of course).
Takeaways and Tips
Go with the flow and don't try to cram too much into your days. No matter how long you will be staying in the park, I think there will always be something more to see. Instead of rushing to try to cram it all in, enjoy the park and take your time to take in whatever you can see.
If you only have 1 day, spend most if not all of it exploring the trails around the Giant Forest Museum and Visitor Center.
Bring lots of snacks, but be bear-smart.
Utilize the tram service, it's super easy and convenient.
Stay on the trails and keep a map with you. We might not have gotten lost if we hadn't forgotten our map in the car.
If you aren't opposed to camping, I highly recommend camping in or around the park. It's peaceful and gorgeous and really cuts down on your commute time if you plan on visiting the parks for multiple days.
*This post outlines my personal experiences and opinions. I am not a professional or expert, nor do I have any formal hiking or survival training. Please hike and explore at your own risk.