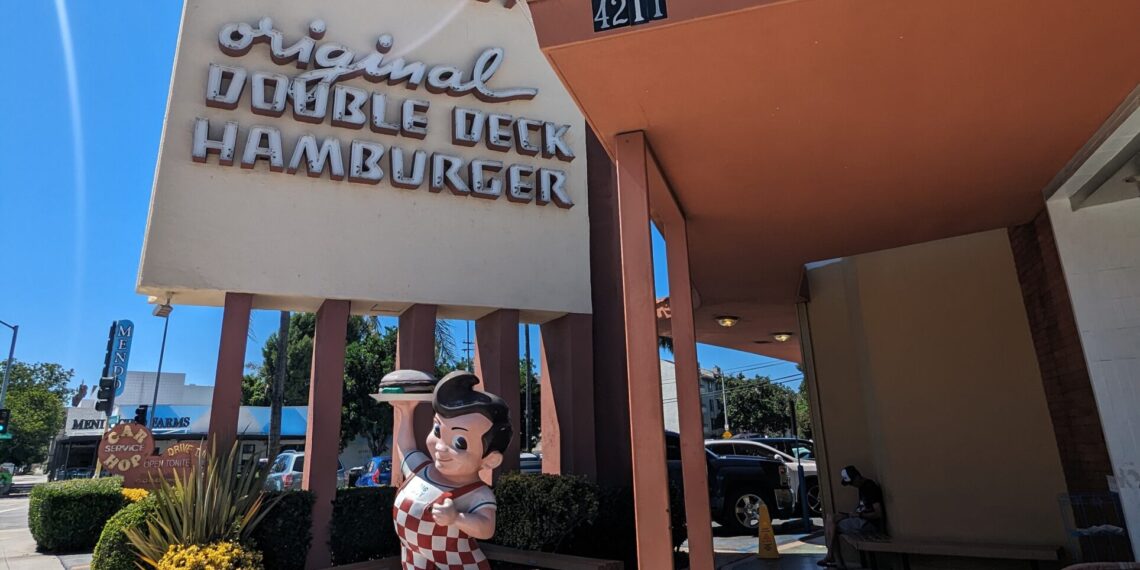 Visiting the Oldest Operating Bob's Big Boy
I have lived in Southern California, for practically my entire life (minus my four-year stay in Hawaii). I love food! Especially greasy diner-style food. I love the 1940s, 50s, and 60s. And I love entertainment! So how I did not know that the oldest operating Bob's Big Boy was in Burbank, California, is beyond me. That being said, as soon as I learned this little fact and discovered it was conveniently located right off my route on my recent trip up to Sequoia, I decided we had to stop.
History
Bob's Big Boy – Burbank, opened its doors in 1949, but the Bob's Big Boy franchise began over a decade earlier in 1936. In 1936, Bob's Big Boy creator, Bob Wian, sold his car for $300 and bought a ten-stool lunch stand called "The Pantry" which he then changed to "Bob's Pantry." This would be the first of what would eventually become Bob's Big Boy.
Bob's Big Boy – Burbank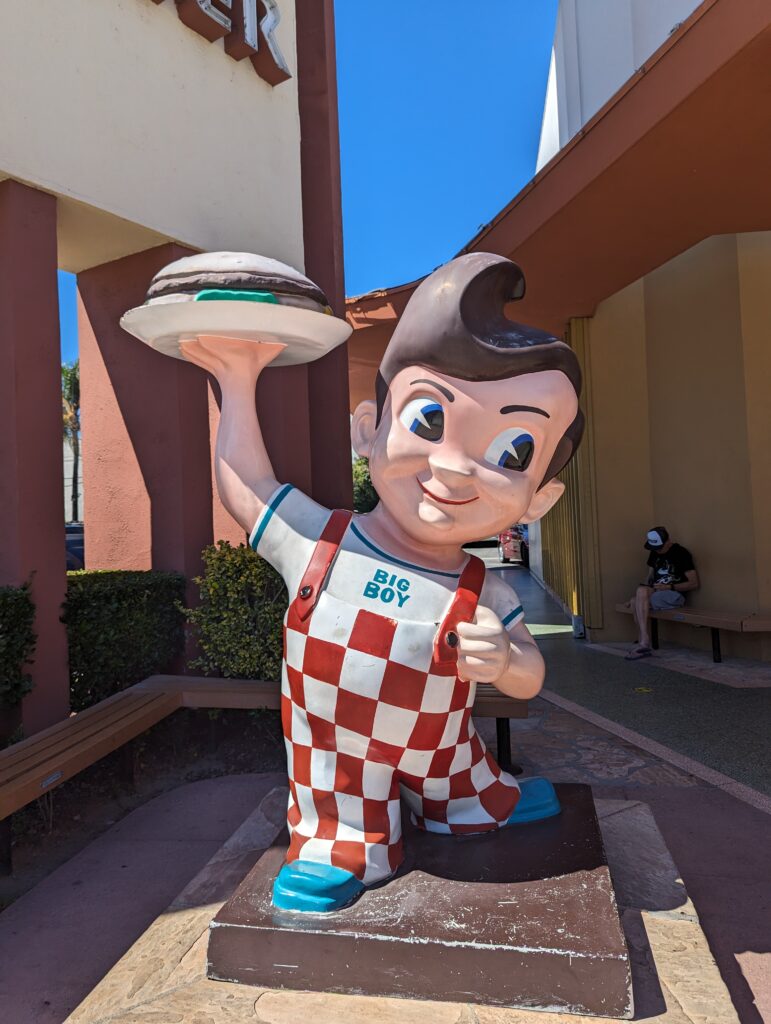 As I already mentioned, Bob's Big Boy Burbank is now the oldest operating Bob's Big Boy in the country and it opened its doors in 1949. And although it's been over 70's walking into the Bob's Boy location feels like stepping back in time.
Although the diner has been "upgraded" for modern times, the overall design and aesthetics still feel like something right out of a 1950s movie.
Bob's Big Boy – Burbank was designed by Wayne McAllister, a renowned architect and leader in Googie architecture.
Although I personally love architecture and old buildings I am not educated nor well versed in architecture so I'll just recommend you click here to learn more about the building if you are interested.
In 1992 California designated Bob's Big Boy – Burbank as a "Point of Historical Interest."
Pop Culture – The Beatles
I didn't do much research on this Bob's Big Boy location before I visited it. I wanted the experience to be authentic and I didn't want to have any expectations. But now I really wish I would have.
While researching Bob's Big Boy for this post I came across the fact that this location has some important Beatles history. (This post just seems full of random facts about me. I'm actually a huge Beatles fan and in fact, my first tattoo was a Beatles tattoo). This Bob's Big Boy has a Beatles Booth.
In 1965 The Beatles actually dined at this Bob's Big Boy location and they have commemorated this event (and their booth) with a plaque.
Our Experience
Somehow I've made it this far in the post without mentioning one small detail – this was also my first time ever eating at Bob's Big Boy.
We arrived at Bob's Big Boy mid-afternoon, probably sometime around 2 or 3 on a Sunday afternoon.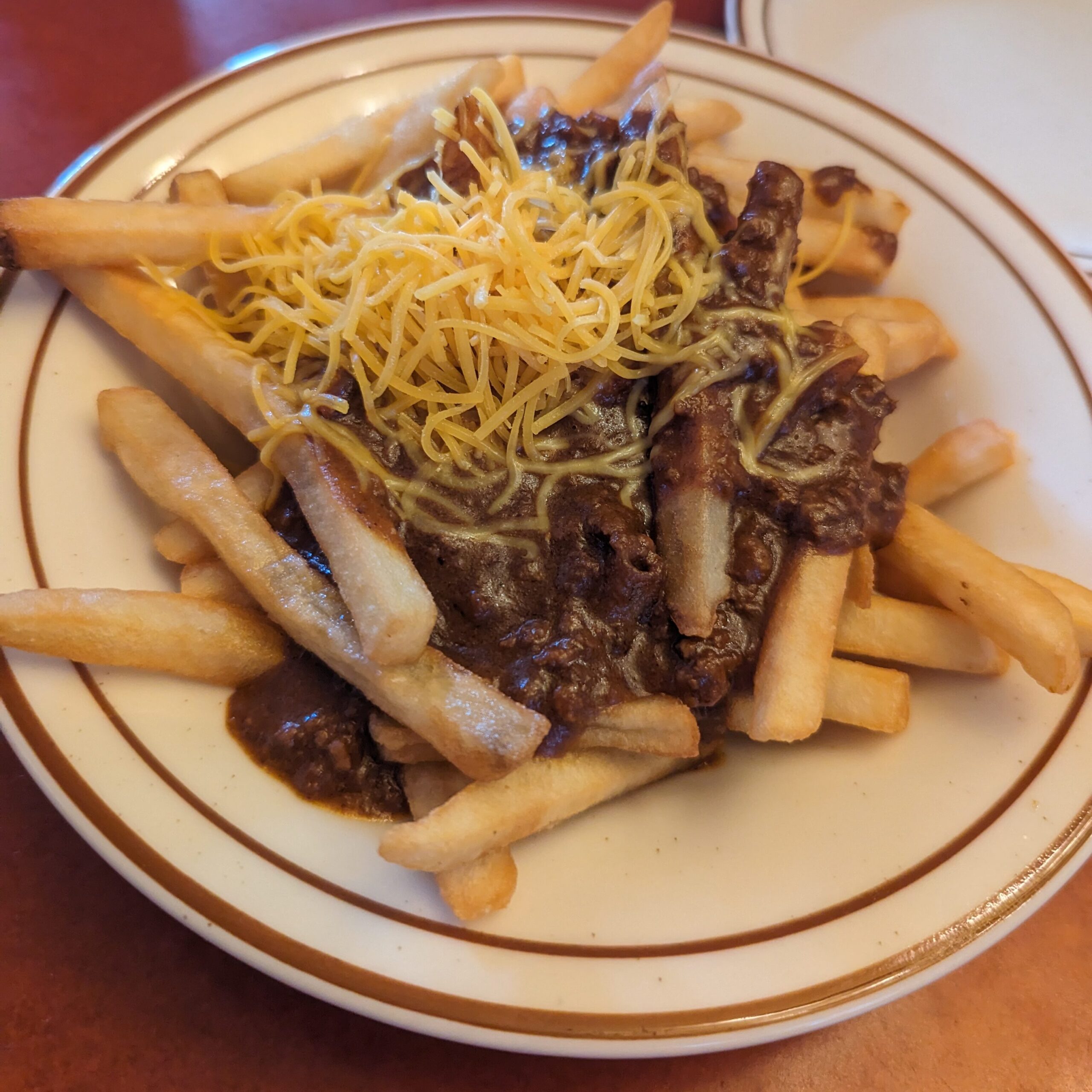 In my mind, this was going to be a big touristy spot, but I was pleasantly surprised by the mix of people there. There were obviously tourists, people who were there for the historical aspect, but a large portion of the patrons, were locals and from the sound of it, regulars. There were people obviously stopping in for a bite to eat after church, others meeting family. It was really quite nice.
The place was full though, and there was a wait, but not too bad considering the line. We waited less than 10 minutes before being sat.
We ordered chili cheese fries to start off with. I ordered their patty melt and my husband ordered the famous Double-Deck Hamburger. Both meals came with a salad and fries.
The chili cheese fries were good. Something about them tasted very familiar, but I will say for the size, the price wasn't worth it.
The salads that came before our meals were delicious. Probably my favorite part of the meal, but they weren't anything special I'm just a sucker for a simple crisp green salad with good ranch and croutons and this salad checked all those boxes.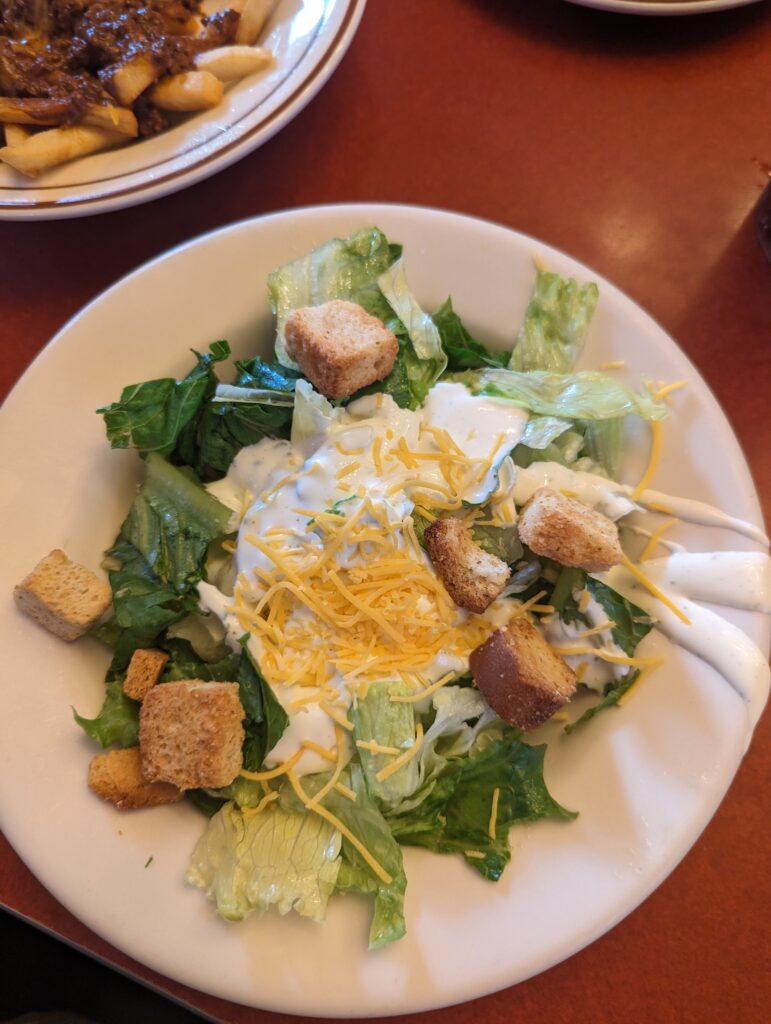 My husband's Double-Deck Burger was pretty good. Well-cooked, balanced flavors and fresh toppings. Great deal too for the price!
My patty melt was a big thumbs down. It looked great, was cooked just how I wanted it, and was topped with grilled onions, and cheese, but it had zero flavor. Tasted like nothing. Not sure how, but the only flavor I got out of it was by dunking it in ranch.
Besides the food, the service was great. The service staff was wonderful and despite the crowd, everything came out hot and quick.
Looking back on it now, if you head into your food experience with the mindset that it is just a basic chain diner like a Denny's or an IHop, you'll get exactly what you expect. The food wasn't mind-blowing, but it wasn't by any means bad.
---
Overall, if you live in the LA area or find yourself around Burbank I do recommend you stop by. The atmosphere is cool, the building is amazing, and it's an overall fun spot to visit.