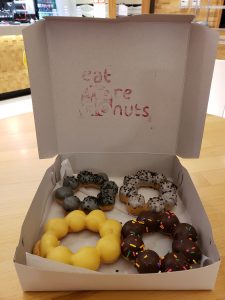 Chewy. Fluffy. Sweet. The most amazing, mind-blowing, sweet treat experience of my life. It's been months and I still have not come up with an accurate, fair way to describe Modo's mochi donuts.
A hybrid of traditional American donuts and Japanese mochi, these sweet delights are made with sweet glutinous rice and, as Glutto Digest so eloquently explains it, "after these donuts are fried, the result is a slightly crispy exterior with a surprisingly chewy interior." At Modo and other locations that serve mochi donuts, they are then covered with a variety of coatings and toppings adding an extra textural experience.
Mochi donuts can be found throughout many countries in Asia, including Japan, Singapore, Taiwan, and Korea. Since they first started popping up in 2005, these sweet treats have slowly started to spread across the globe and can now be found in countries all around the world including Europe and the US.
I am aware of one other location on Oahu that sells mochi donuts, and their poi mochi donut is delicious, however, Modo was always my go-to spot. Despite being located in Waikiki, I always felt like they were worth the treck and the hassle.
Located within Waikiki's International Marketplace, Modos serves a variety of mochi donut flavors, including strawberry, coconut, black sesame and much more. I have had the pleasure of trying their chocolate, earl grey, lilikoi, and my absolute favorite, cookies and cream.
If you find yourself on Oahu, whether you are in Waikiki or not, I highly recommend making the time to stop at Modo, day or night!