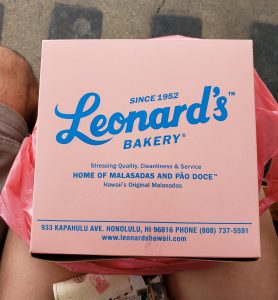 As a SoCal girl, I know that the best doughnuts come in a pink box. Krispy Kreme can be nice, and I enjoy Winchell's and Dunkin' Donuts, but the absolute best doughnut will always be found in a local shop with a pink box.
It's fact.
Ask anyone in California.
So for me, pink boxes have always meant an amazing sweet treat was headed my way for breakfast (or lunch or dinner or late night snack…doughnuts are good anytime) and thanks to Leonard's Bakery here on Oahu that is still what a pink box means, with a slight twist.
Now Leonard's Bakery is not a doughnut shop, or at least not the kind of doughnut shop that comes to mind for most. Here you will not find maple bars or old fashions, but what you will find are freshly baked, made to order malasadas.
Malasadas are Portuguese doughnuts without a hole. These large balls of dough are fried until they are golden on the outside and light and fluffy on the inside. They are an *insert vulgar reference here* in your mouth!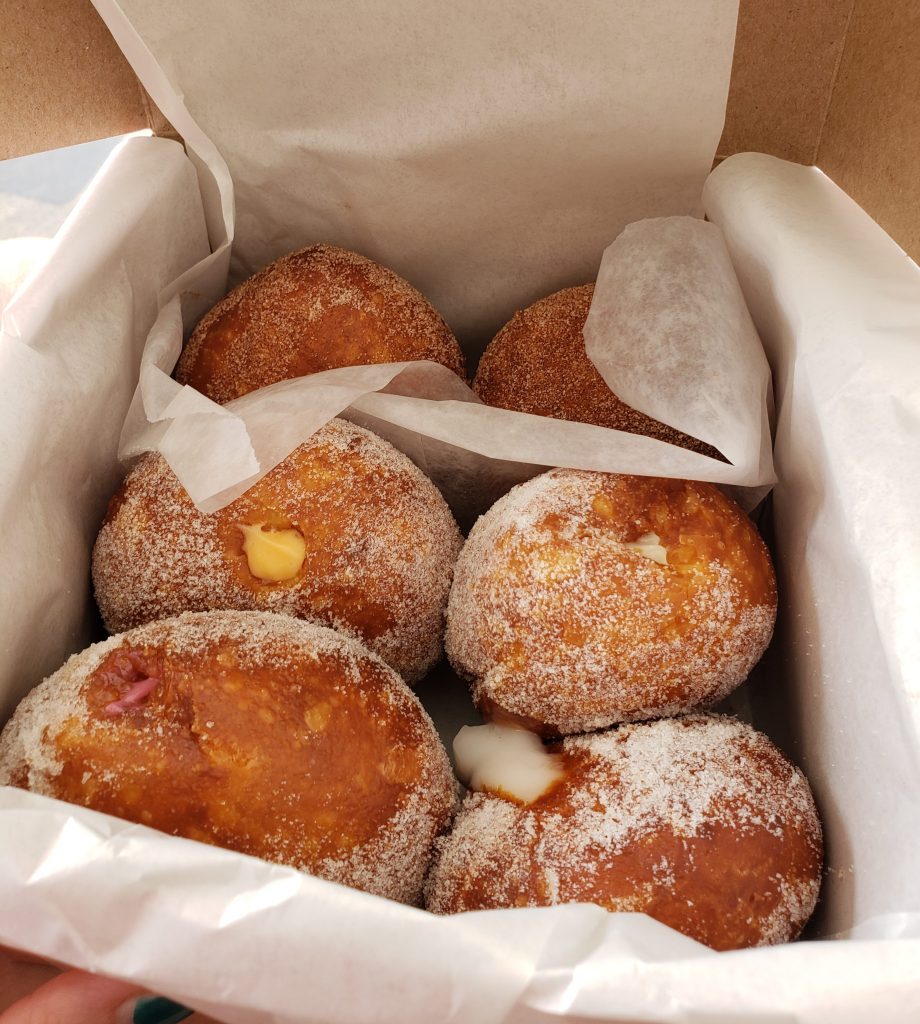 Malasadas can be found at other locations throughout Hawaii, but thus far Leonard's is my favorite.
Leonard's Bakery was opened in 1952 by Leonard DoRego and his wife Margaret. Leonard's mother, Amelia, suggested they make malasadas for Shrove Tuesday. Despite Leonard's concern that the Portuguese donuts may be too ethnic they were a huge hit. Since then Leonard's has been making Malasadas daily on Oahu.
Leonard's serves malasadas as Original (covered in sugar), Cinnamon Sugar, and Li Hing. Leonard's also serves filled malasadas or malasada puffs. The filling options include custard, dobash (chocolate), and haupia (coconut and my absolute favorite) as well as an ever changing flavor of the month.
On top of their amazing malasadas, Leonard's also serves up cookies, cakes, pies, and breads.