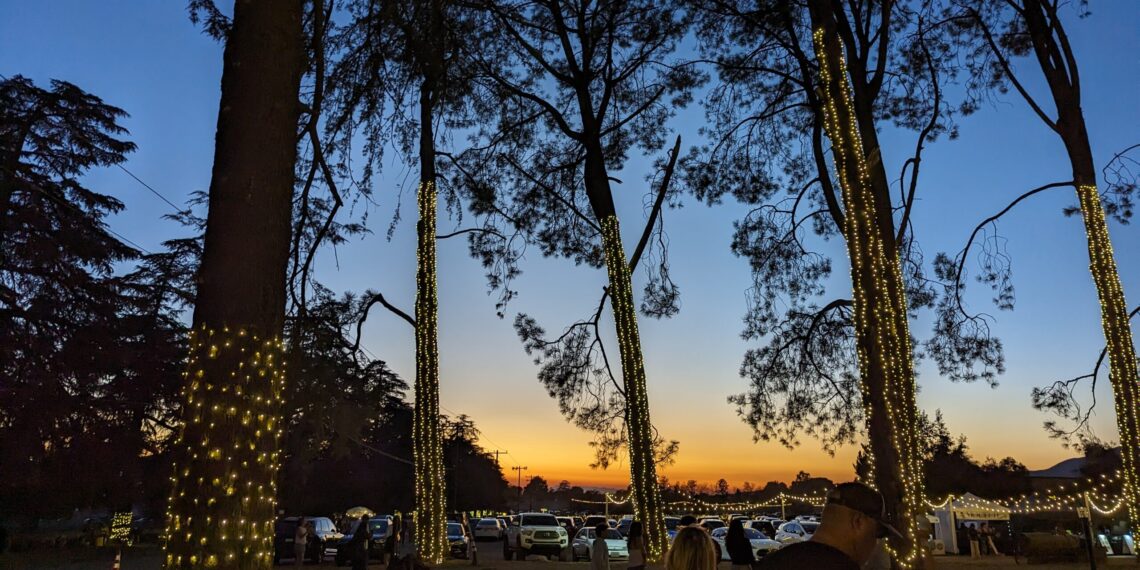 Lavender Nights Festival – A New Fun Fall Activity
Apple picking and pumpkin patches are fall fun staples, but if you're looking for something different to do this fall, I highly recommend you check out the Lavender Nights Festival in Beaumont, CA.
While not exactly a "fall" activity, the Lavender Nights Festival is the perfect way to enjoy a cool fall evening filled with beautiful lights, delicious food, and yummy drinks.
I'm always a bit nervous exploring new places I only hear about on Instagram, but that is exactly what led me to the Lavender Nights Festival. I saw a beautiful Instagram reel and decided I had to go.
So this past weekend my husband and I wrangled up another couple and we set out to see if this festival was as beautiful as its persona on Instagram.
Spoiler alert: It was!
The festival is open starting at the end of August and runs through the end of October (Thursday – Sunday), 5pm-10pm (so at the time of my writing this, you still have a few more weeks to check it out!).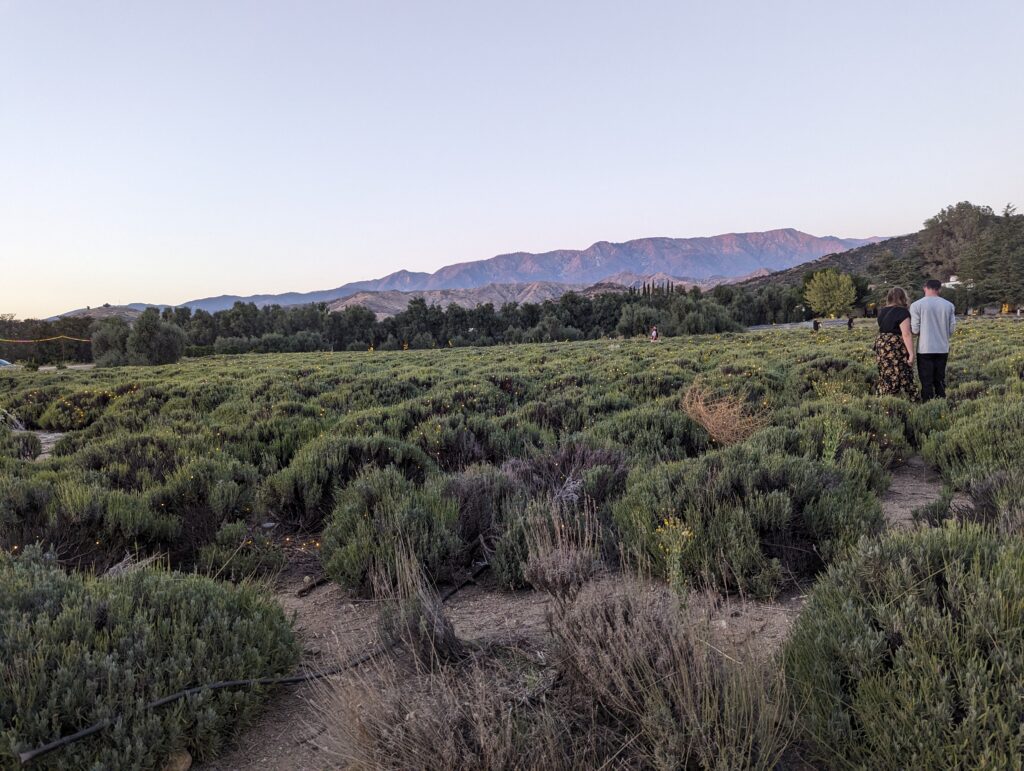 Parking
There is both onsite parking, which you can purchase in advance and free street parking. Onsite parking was sold out so we knew we would be parking on the street, but we did not anticipate how crowded it was going to be.
We arrived just after 6 and I wrongly assumed parking wouldn't get crazy until it got closer to sundown (the field of lights is the main attraction). We ended up having to park a little over a block away, about a 10-minute walk. Not too crazy, but keep in mind we got there around 6, so I'm assuming it only got crazier as the night progressed.
Organic Food & Drinks
Of course, the main draw for the festival is their lights, but if I'm being completely honest I was there just as much for the food and drinks as anything else.
The festival has outside vendors that cater the event (changes every weekend) and an onsite food court where you can get things like sourdough pizza, burgers, BBQ, and sandwiches. For dessert, they have things like lavender-infused ice cream and lavender cheesecake.
For the adults, you can also try out different lavender beverages like lavender hard lemonade, lavender margaritas, and lavender mojitos (just to name a few).
Best of all the majority of the food is organic!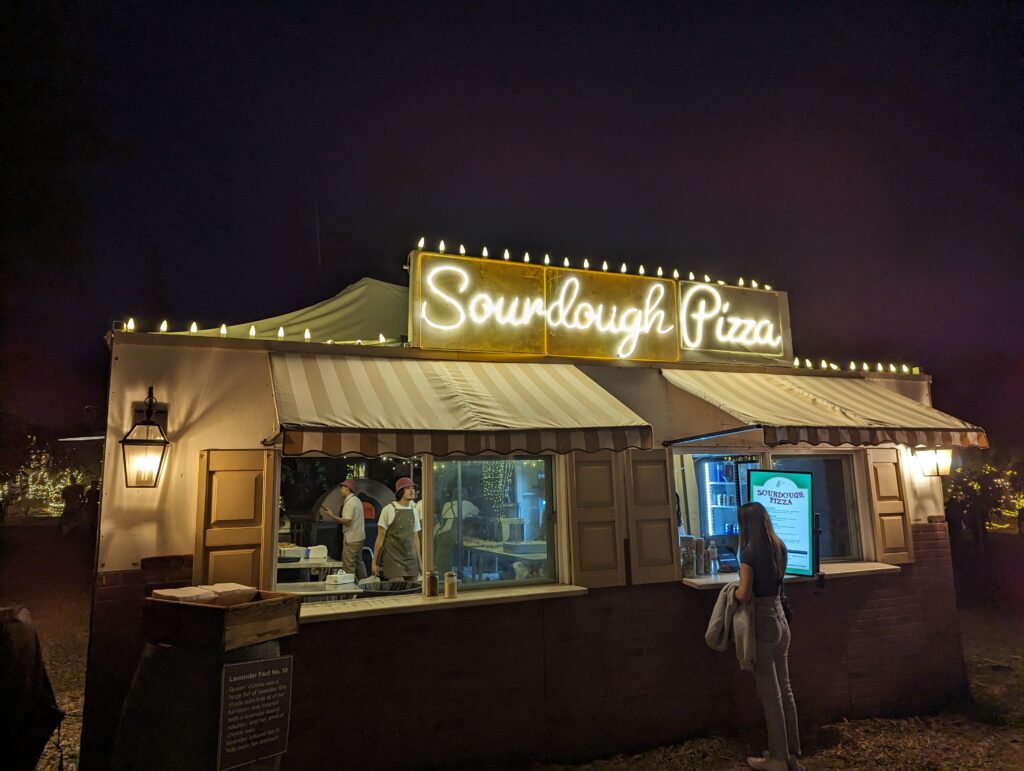 I sadly didn't get to try as much food as I wanted but I did get to try the
Fig and Lavendar Sourdiugh Pizza
Vegetarian Tuscan Sourdough Pizza
The Grand Oak Cheeseburger and Fries
Hot Dog
Lavender Honey Ice Cream
Lavender Hard Lemondae
Lavender Mojito
Lavender Beer
Red Sangria
The pizzas were really good and although I was nervous, I honestly preferred the fig and lavender. It was the perfect combination of sweet and salty.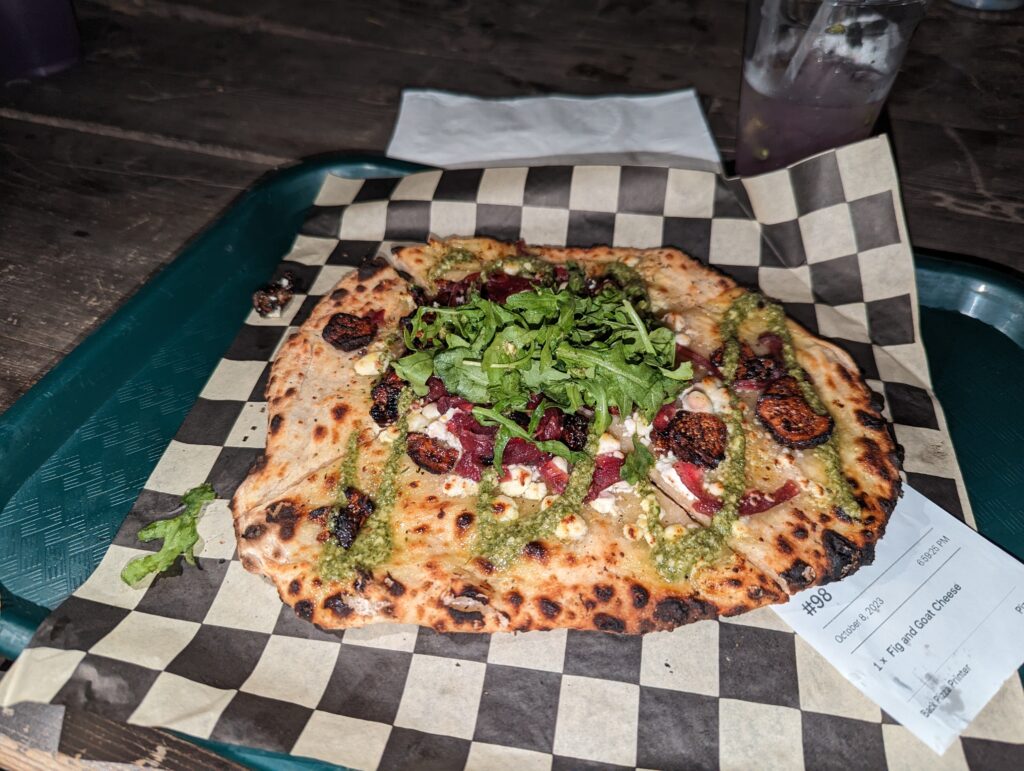 The cheeseburger and hot dog we didn't get until right before the festival closed, so I feel like I can't accurately judge them. What I got wasn't very good, but I could see the potential and would be willing to try them both earlier in the night.
The lavender honey ice cream is a hard no for me. While everything else throughout the night had a nice hint of lavender, the ice cream was too much and felt like eating lotion. I couldn't finish it.
All of the drinks were delicious. My personal favorite was the mojito. Nothing tasted too strong and they were all so pretty to look at.
And while you enjoy your food you can listen to live music.
Also, although the lines were crazy long, everything moved pretty quickly.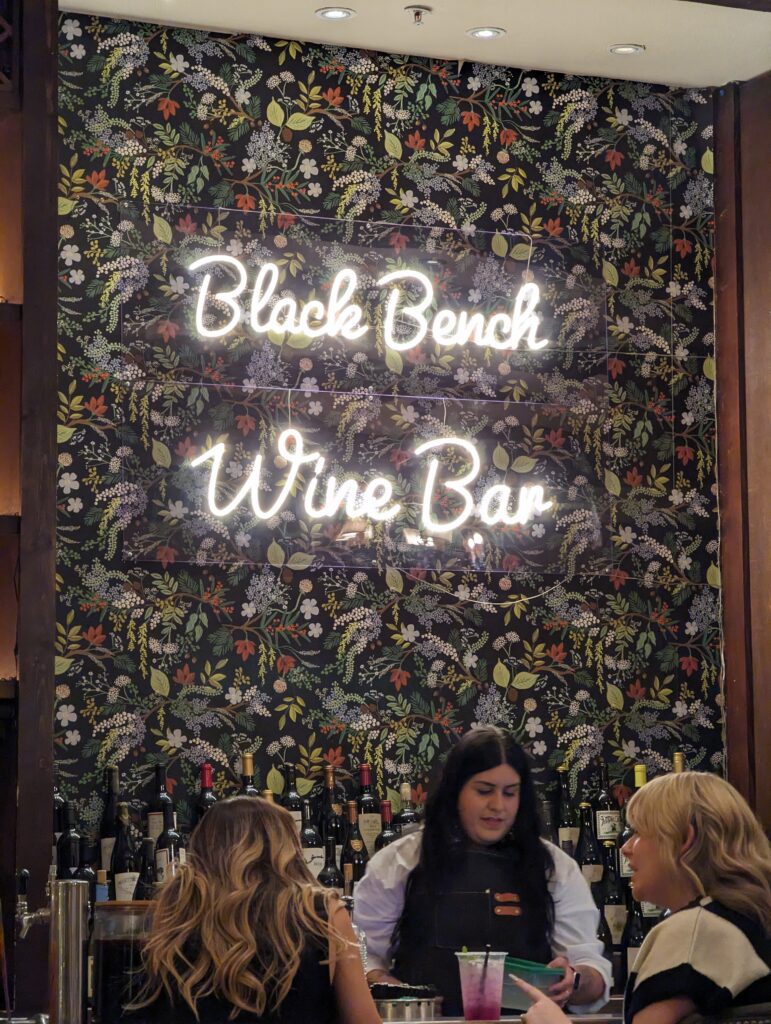 Besides the food court, there is also a wine bar at the festival where you can sample different wines. We did get a wine flight, but I'm not a wine drinker so I don't think I can comment on that one. But my friends were happy with it.
The Lights
The lights are probably the main attraction of the festival. They turn their lavender fields into a sea of lights and drape the rest of the farm grounds in just as many lights.
You can take your photo in front of a glistening willow, walk through a glowing olive tree grove, and even check out an oak tree that is over 1000 years old.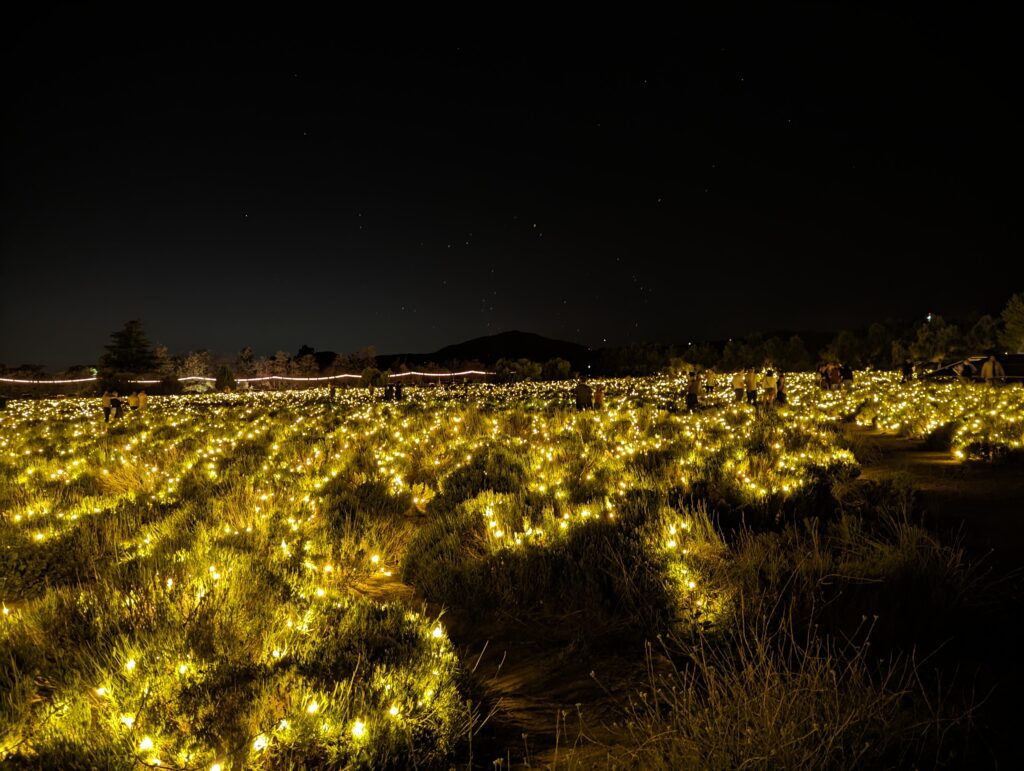 Other Activities
I didn't get to explore everything at the festival, unfortunately, but some of the other activities include:
Tractor rides around the farm
Shops
A noodle bar and fresh baked sourdough
Tea room