My Unpopular Opinion – The Pig & The Lady
Years before I even had any inclination that I would ever visit Hawaii let alone live there, I had decided that before I died I needed to try The Pig & The Lady. Known for their amazing Pho, that wasn't what drew me there. I knew I had to go to The Pig & The Lady because they had a full dessert bar!
Now I don't mean they had a large dessert menu or a dessert buffet bar, they have a full dessert bar set up just like a traditional bar. You have your bar area, with your "bartender", and stools that you can sit at all along the bar as you watch your magical desserts being made. I love my desserts! I saw this first on the TV show Unique Sweets and I fell in love instantly.
Fast forward to leaving Oahu, after three years of life on the island and I still hadn't tried The Pig & The Lady. It had been at the top of my restaurant food list from the minute I arrived, but because it is located in Downtown Honolulu where parking is nearly impossible and my husband hates to drive to, we never went. However, my husband knew I couldn't leave Oahu without going to The Pig & The Lady, so during our last week or so there we decided to go in for lunch.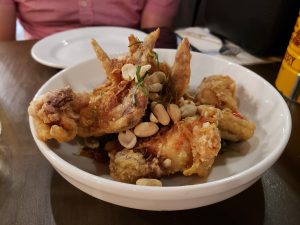 I was already in love with the idea of going to The Pig & The Lady before moving to Hawaii, but my three years on the island made it so much worse. Throughout my time there I saw countless magazines and online articles talking about how amazing The Pig & The Lady was, from their ambiance to their perfect Pho and special Banh Mi Dip. I had high expectations going into my lunch and I don't think I have ever been more disappointed.
Everything about my visit was bad, from the service to the food, and even my bathroom experience. I was so disappointed I never even tried the dessert bar I had dreamed of for so long. I thought it was safer to just leave my dream as intact as I could.
To start off the service was terrible. It took our waiter forever to take our order and way too long for our food to come out after we received our appetizer. Our waiter never once checked on us and got nearly every aspect of our order wrong and it is a very tiny menu. When it came time to get our check we waited nearly 20 minutes just to get his attention to bring us our check.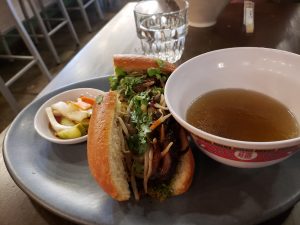 Now onto the food. The sad sad food. We ordered their chicken wings as an appetizer. My husband ordered their pho with a side of duck fat rice (which he never received) and I got their banh min dip with noodles (that I never received). The wings were the absolute worse. They were hard to eat, greasy, and tasted like they had been dipped in vinegar. They had full peanuts on top of them that didn't seem to serve any purpose. My sandwich was ok and had decent flavor but the pho broth to dip it in was just odd. It had a strange taste and didn't meld well with the sandwich. It also made eating the sandwich a bit strange. My husband's pho broth was the exact same and his noodles were thick and mushy, as if they were left in the broth for way too long.
I left feeling sick and unsatisfied.
Now for the weirdest thing, their bathroom. I'm not even sure how to describe this situation so I'll just leave a link the video below. (FYI I didn't add the music)