If you google Oahu Mermaid Caves you will be treated to hundreds if not thousands of photos and tourists (and even some locals) talking about these gorgeous and mysterious caves located on the west side of Oahu. Post after post will tell you how difficult these caves are to find and to get down into, but the pictures convince you that it is well worth the effort and the risk. You will find photo after photo of crystal clear waters and gorgeous caves, exactly like what you would imagine mermaids would hang out in. You will be convinced that if you ever got to Oahu, you will need to find these caves.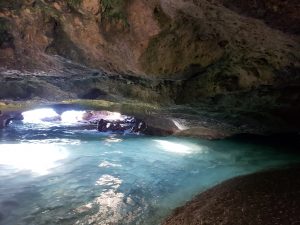 If you do think that this is a must see spot for anyone visiting Oahu, I will admit I was right there with you. From the moment I heard about these Mermaid Caves they went to the top of my to-do list in Oahu, unfortunately (or fortunately) I didn't make the time to go find these caves until my last few weeks in Oahu.
Are they worth all the hype? Not so much.
Are they gorgeous? They are pretty nice to look at.
Are they hard to find? Not really, if you take the time to look.
Are the dangerous? Yes, yes, yes!
Because they are somewhat of a local secret, I won't disclose exactly where the caves are located, however if you spend just a little time googling them, you should be able to figure it out. Once you arrive to the beach and head off towards the caves, don't get discouraged if you don't come upon them really quick. It is a bit of walk, but just continue to follow the sound of crashing waves and underground laughter.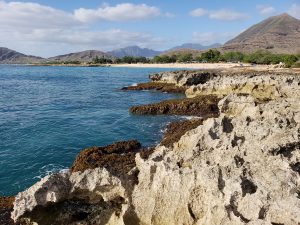 Once you arrive to the caves, you will have a few different options on how to get down to them. I saw at least two holes you could climb down in to, while I saw others choose to jump off the end of the rocks and swim into the caves. If you decide to enter these caves (which I don't recommend unless you have others with you and are fully aware of your body's capabilities) please stay aware of the water, the tide level, how the water is coming in and out of the caves, and how others in the cave seem to be reacting to the water and their experience.
It was a bit of a challenge, but I did manage to climb down into the caves, with lots of assistance from my husband. The water was not as calm as I would have liked, so we didn't go out very far into the caves, nor did we stay down there very long.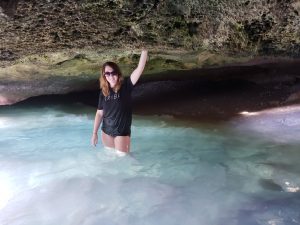 The caves themselves are gorgeous and offer great photo opportunities. They are like nothing I have ever seen before, but the space is much smaller than I expected and they are much more well known then I would have anticipated. Most likely you will find lots of people looking for the caves and once down in the caves you will be surrounded by the echoes and laughter of other explorers such as yourself. It is not the relaxing, magical experience I was expecting.
On top of that the caves are not really near anything else. Unless you are staying at Aulani or one of the other west side accommodations, or planning to make a day trip out of the west side of the island, I wouldn't recommend making the trip out there just for these caves.
*The Mermaid Caves are challenging and dangerous. I am not advising nor recommending that anyone attempt this, I am simply sharing my experience.