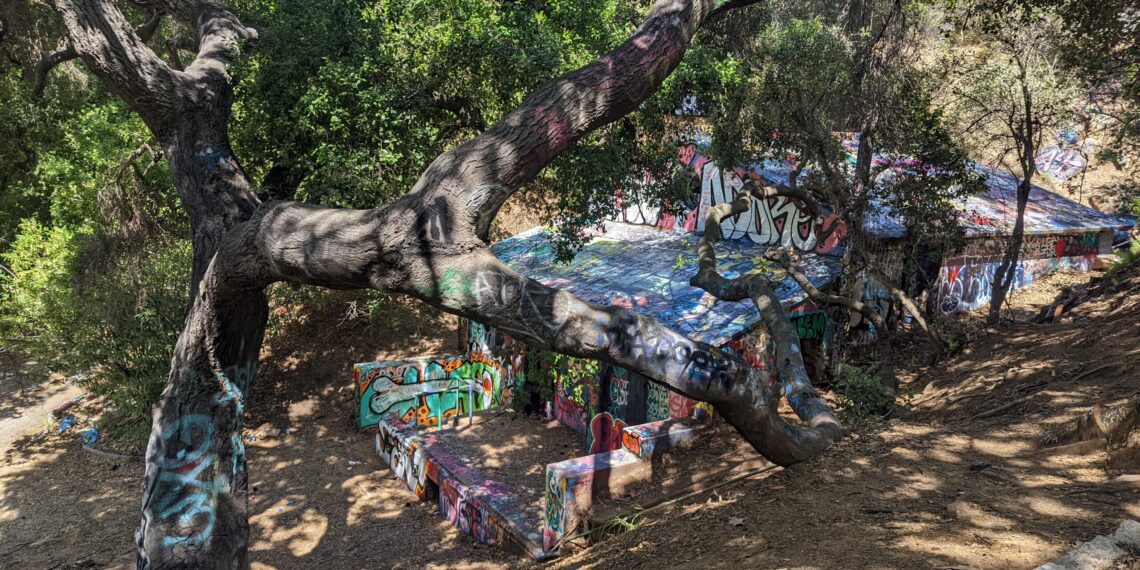 Murphy Ranch – Old Nazi Compound in the Santa Monica Mountains
Did you know there is an old Nazi sympathizer compound hidden away in the Santa Monica Mountains? (Or at least the start of what was to be a Nazi sympathizer compound.) Accessible via a moderately rated 3.4-mile hike in Rustic Canyon, Murphy's Ranch is a peek into some of the bizarre histories of LA.
The history of the compound is a bit of a mystery and seems to change slightly from source to source. From the bit of research I have done, it appears as though the 50 acres of land that Murphy's Ranch sits on was purchased by Jessie M. Murphy in 1933. A supposed widow, who besides being the namesake of the ranch and the name used to purchase the property, has no other records of existence, leading historians to believe it was a name used by the real owners of the property, Norman and Winona Stephens.
It appears that once the land was acquired, the Stephens financed the construction of the ranch, led by a German man, Herr Schmidt. Depending on what you read the trio came to this conclusion in different ways, but the trio ultimately believed that the Nazis would win the war. This victory would send the US into chaos and the ranch was to be a self-sustaining compound able to house inhabitants throughout the postwar chaos. Once things calmed down, everyone living at Murphy Ranch would emerge to help rebuild the country. (This seems to be the most common belief, although I've also read that this was just meant to be a compound to keep them safe.)
The ranch was never completed and only a fraction of the buildings were ever fully constructed. However, there are extensive architectural plans that lay out the entire plan for the property.
The day after the Pearl Harbor attack the plans for Murphy Ranch came to a halt. Federal Agents supposedly raided the compound and arrested all inhabitants.
I was going to try to dive more into the history of Murphy Ranch when I started this post, but the history is so fuzzy and varies from source to source. And there are already a lot of different blog posts out there on this, that I just don't think I could do it justice. The history is pretty crazy though, so I would recommend, if you are interested, to do a little digging. Here are two sources I found pretty helpful when I started my own research.
Now I may not be an expert on the history of Murphy Ranch, but I can share with you my experience of hiking to Murphy Ranch.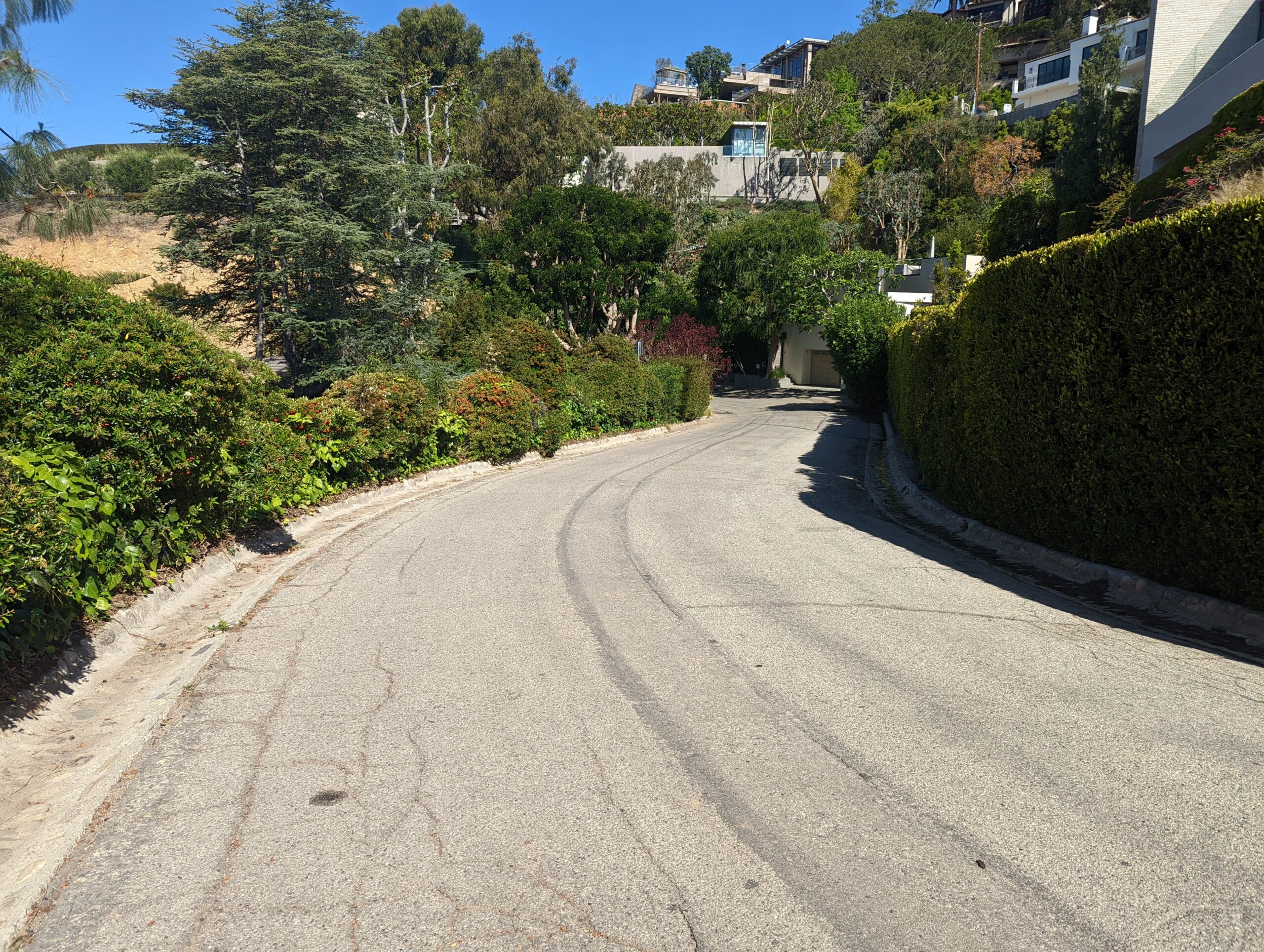 To get to Murphy Ranch we used the directions from AllTrails. Navigation will take you directly to the trailhead, but you will need to park a street or two down. The trail starts in a fancy Brentwood neighborhood and there is no parking directly at the trailhead.
For the start of the trail, you will be headed up a very slightly steep hill, pretty exposed with very little shade, so I recommend sunscreen, hats, and lots of water…I underestimated my water need and was hurting by the end. While this part of the trail has little to do with the ranch, you can get a pretty good look at the ocean, and if you like architecture, like I do, stare in awe at the surrounding mansions.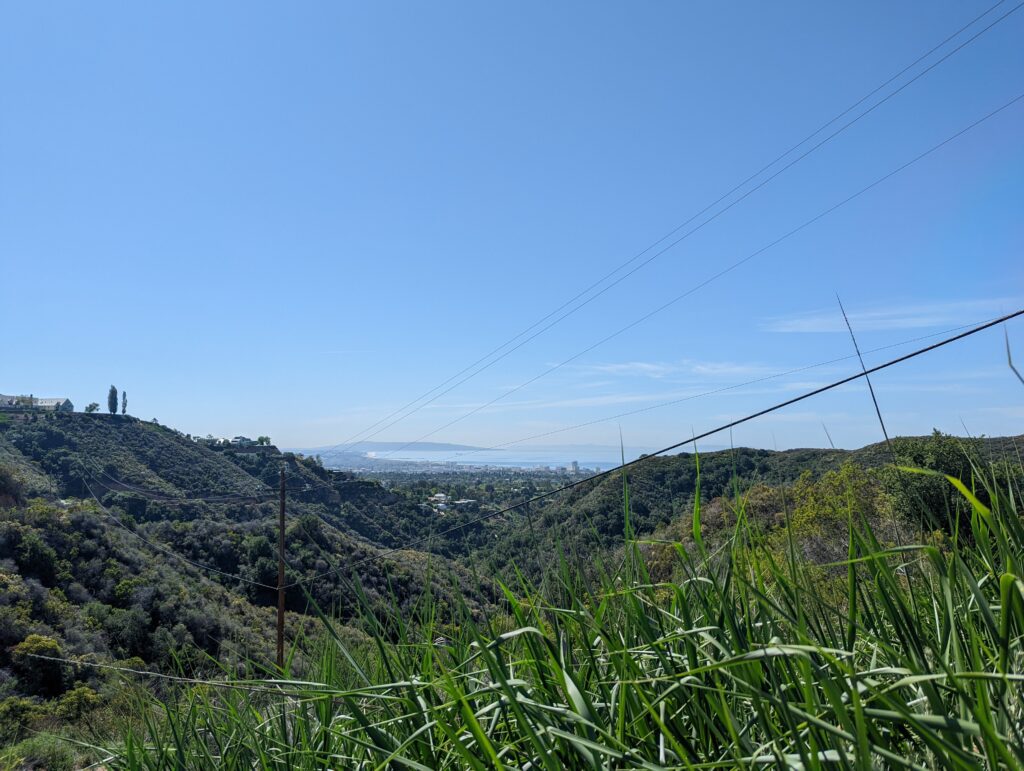 Eventually, you will come up to a break in a chainlink fence on your left-hand side. If you turn and take the trail here you will be headed down a steep set of concrete stairs. This is the route we went with because, unless you want to turn this into a complete out and back trail, the alternative means climbing up those stairs.
As I've implied, you can choose to keep going and instead turn left and follow a gradually declining trail down to the remaining structures of the ranch.
No matter which route you decide to take, out and back, down the stairs, up the stairs, I think AllTrails' trail route gives you a pretty good idea of where you're going and keeps you on track.
Sadly, most of the buildings that were constructed for Murphy Ranch are gone, but once you do make it down to the actual compound you can still see different concrete stairs, a water tank or two, a gas tank, and some other concrete structures and walls.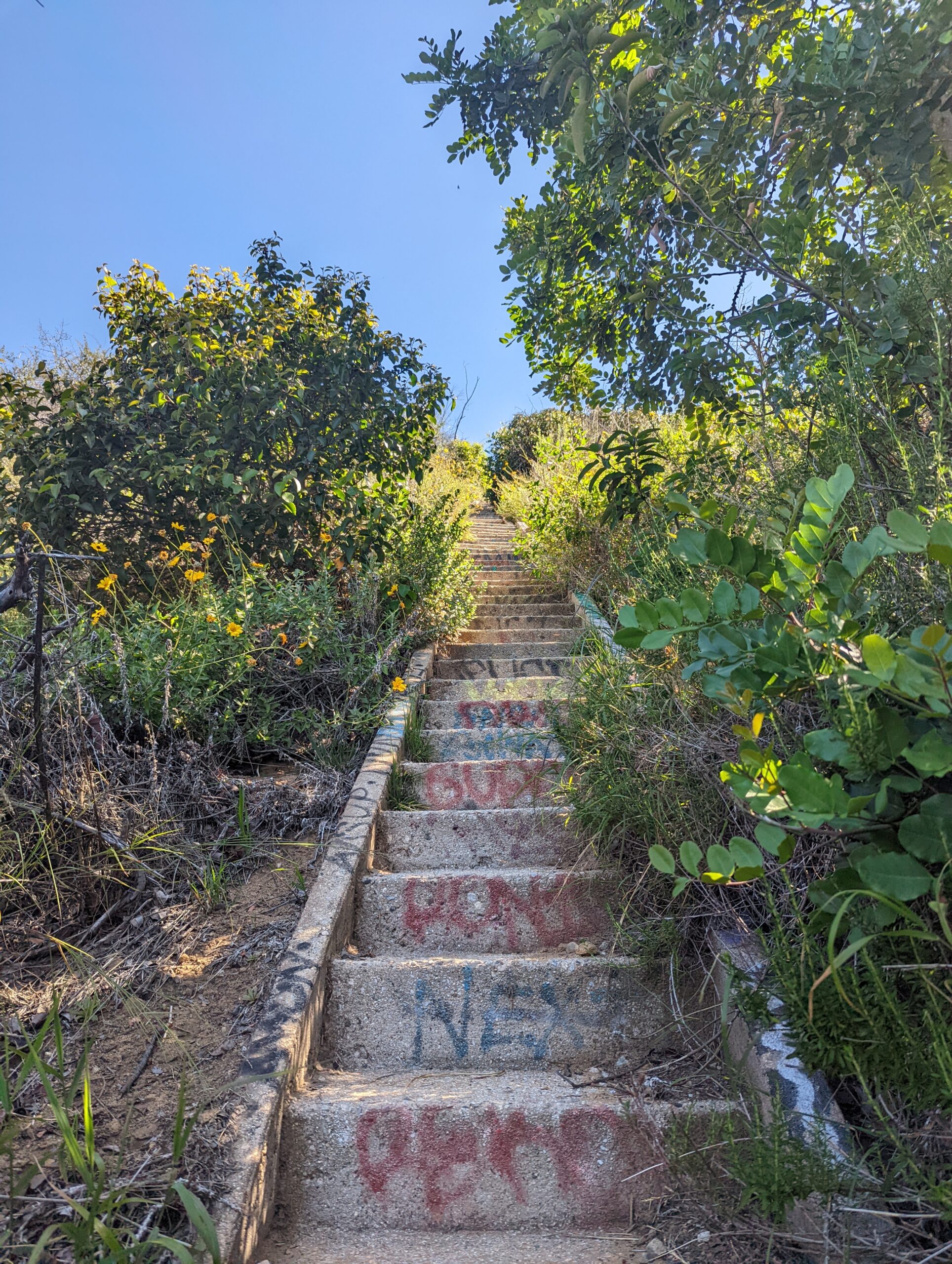 According to my AllTrails recording, we were moving for just under two hours and hiked just over 4 miles. We were down there for a photo project my husband was doing for school, so we were down there, exploring, and backtracking a bit more than we probably would have otherwise.
Overall, it was a fun day hike and a cool peek into part of LA's history.
*This post outlines my personal experiences and opinions on this hike. I am not a professional or expert, nor do I have any formal hiking or survival training. Please hike and explore at your own risk.