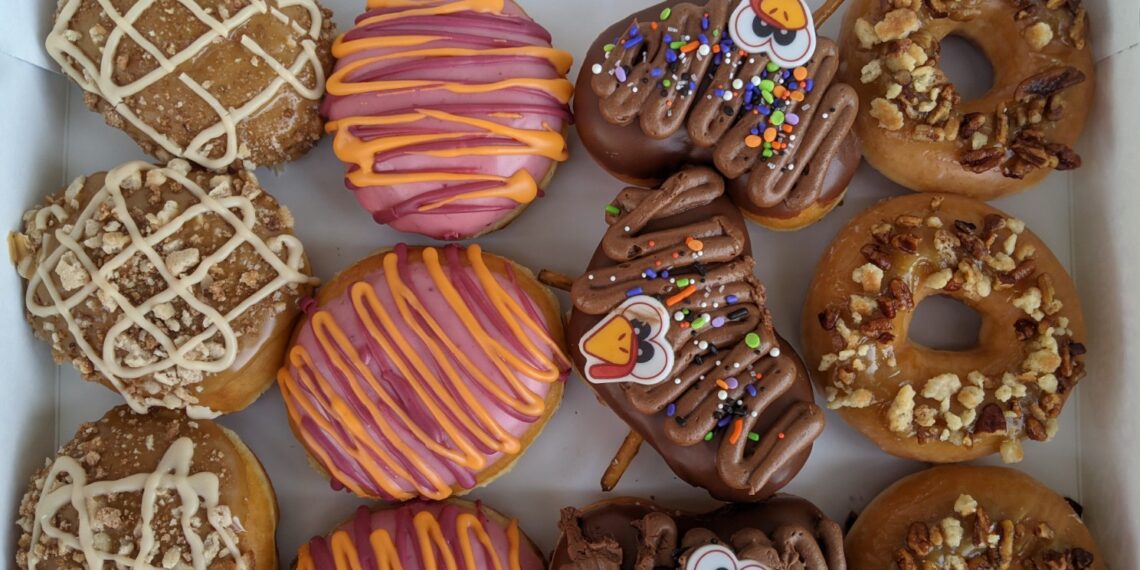 Krispy Kreme Gobbles of Gratitude Ranked Worst to Best
In case you weren't aware, like me up until this morning, Krispy Kreme has launched some Thanksgiving-themed doughnuts and I tried each and every one of them this morning! Now that I've had some time to sit and contemplate my Thanksgiving Dozen, I'm ready to share with you my ranking of all four limited-edition Krispy Kreme Thanksgiving-themed doughnuts.
4. The Gobbler
Although adorable and probably something anyone under the age of seven will immediately be drawn to, The Gobbler was just a letdown. (Probably doesn't help that I'm not a huge chocolate fan, but my husband is and he wasn't a big fan of this doughnut either.) Krispy Kreme describes the doughnut as "A heart doughnut dipped in chocolate icing, topped with chocolate Kreme™ and Thanksgiving sprinkles, and decorated like a turkey with a turkey face fondant piece and pretzels." It's cute but that's it. Due to its size, the doughnut was kind of dry and dense, not the light and airy texture you expect from Krispy Kreme, and the chocolate was just "meh." If you want a chocolate doughnut I'd much rather opt for a regular chocolate glaze. But, did I already mention, it is cute?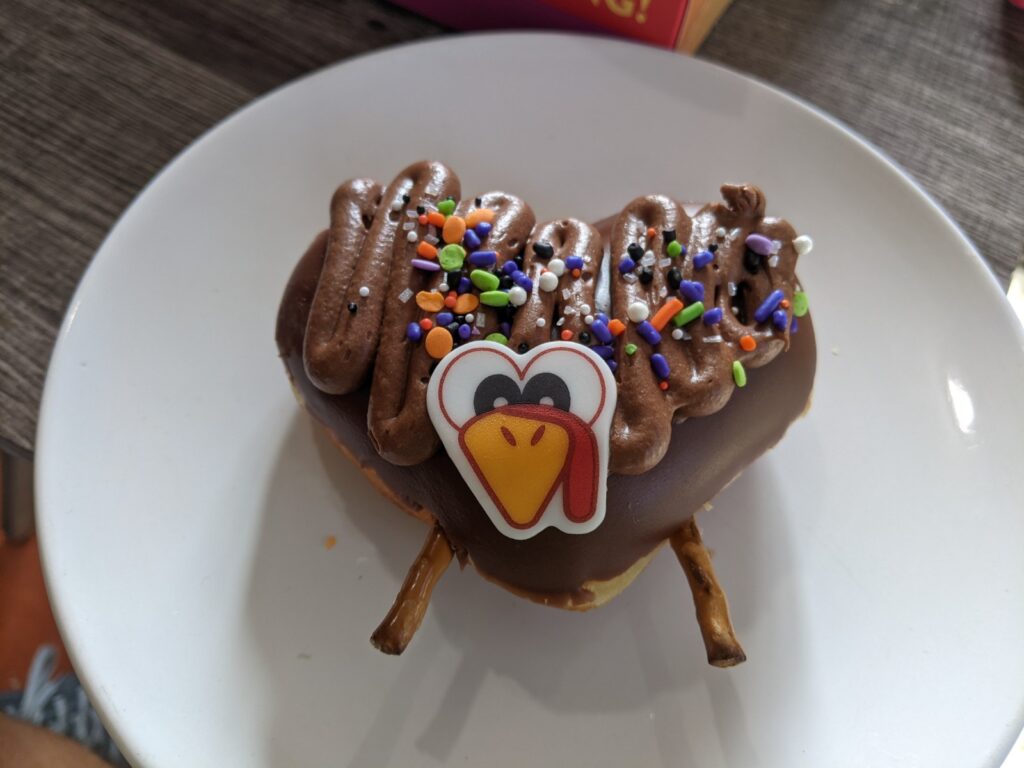 3. Cranberry Orange
I thought I was going to hate this one, and although I probably wouldn't order it again, I'm not mad to eat the ones I have. The cranberry orange is "A doughnut with cranberry filling, dipped in cranberry-orange icing and finished with an icing drizzle." I didn't know about these doughnuts or read their descriptions before ordering them, so I was totally unaware and caught off guard when I bit into the doughnut and was immediately hit with fruity flavor before even touching the filling. I had assumed the glaze topping was colored just for looks and didn't expect it to be fruity. Although it does have a pretty artificial taste, the overall doughnut is not that bad, and not too sweet if that's something you are worried about. If you liked fruity-filled doughnuts, I don't think you'd be disappointed with this.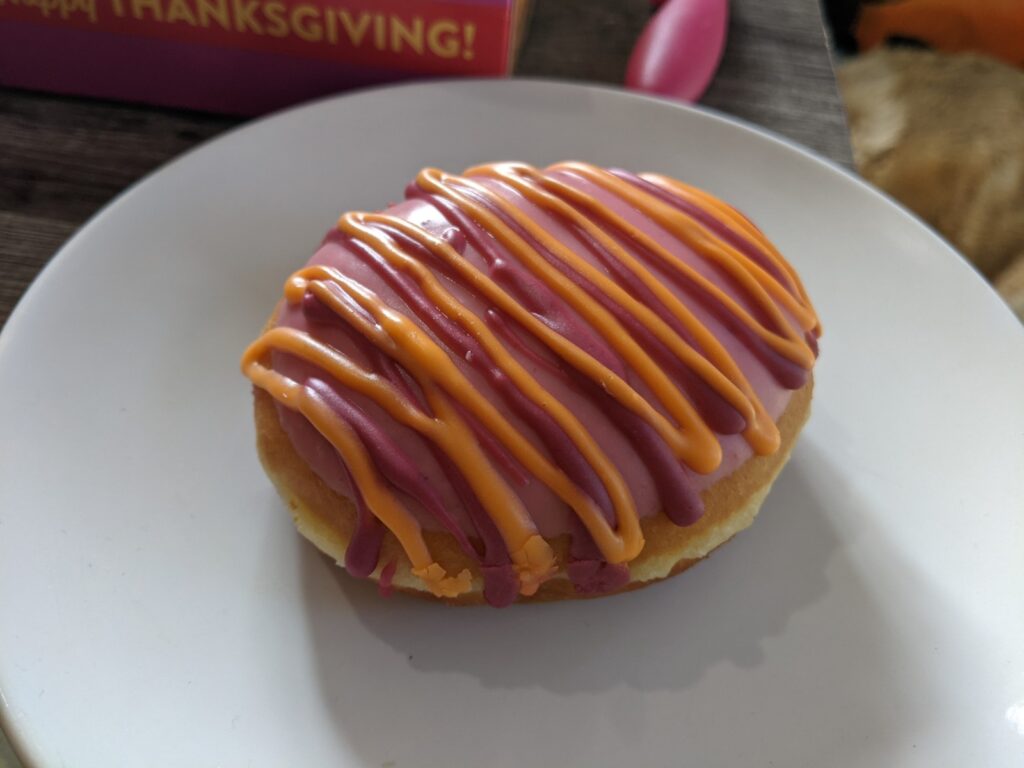 2. Peacan Pie
"An Original Glazed® doughnut dipped in gooey butter tart filling, candied pecans, and pie crust crumbles." This is a great Krispy Kreme doughnut. The nuts and pie crust add great texture to the light and airy traditional glazed doughnut. The buttery tart topping is rich, but not too sweet. If you like pecans or just nuts in general, get this doughnut.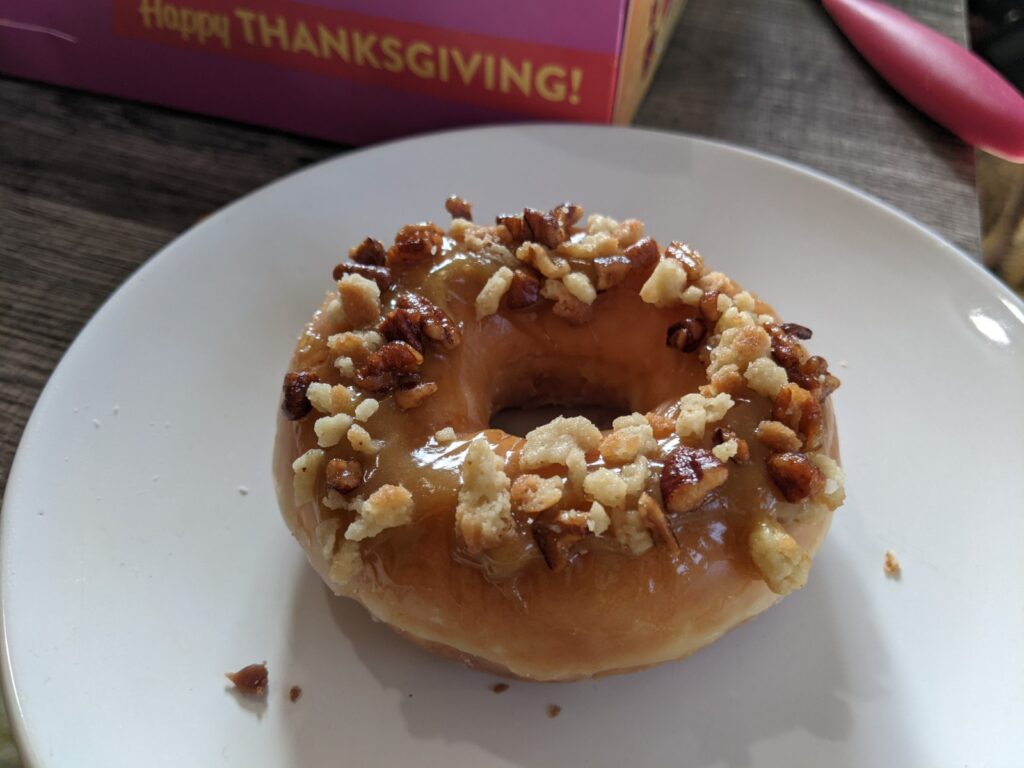 1. Dutch Apple Pie
It was a close one, between this one and the pecan pie, but I already loved apple-filled doughnuts so much, this had to be my #1. Their Dutch Apple Pie is, "A doughnut with apple pie filling, dipped in caramel icing, topped with cinnamon streusel cookie crumbles, and decorated with an icing lattice." It's delicious. My husband doesn't even really like apple pie, and he agreed this one is the best out of the Thanksgiving doughnuts we had. It's filled with just the right amount of apples, not too sweet, and the cinnamon streusel cookie crumbles add great texture. Despite the caramel icing, the doughnut isn't overly sweet.
All of these doughnuts, The Gobbler, Cranberry Orange, Pecan Pie, and Dutch Apple Pie, can be purchased as a Thanksgiving Dozen and come in a cute Thanksgiving box, with three of each doughnut. The Thanksgiving dozen is available now through Thanksgiving.
Besides those offered in the box, Krispy Kreme does have a few other "Thanksgiving" themed doughnuts, that since they didn't come in the box I didn't try, but do deserve mention. They are offering a chocolate glazed (and mini chocolate glazed) doughnut topped with Thanksgiving sprinkles and a pumpkin spice cake doughnut.