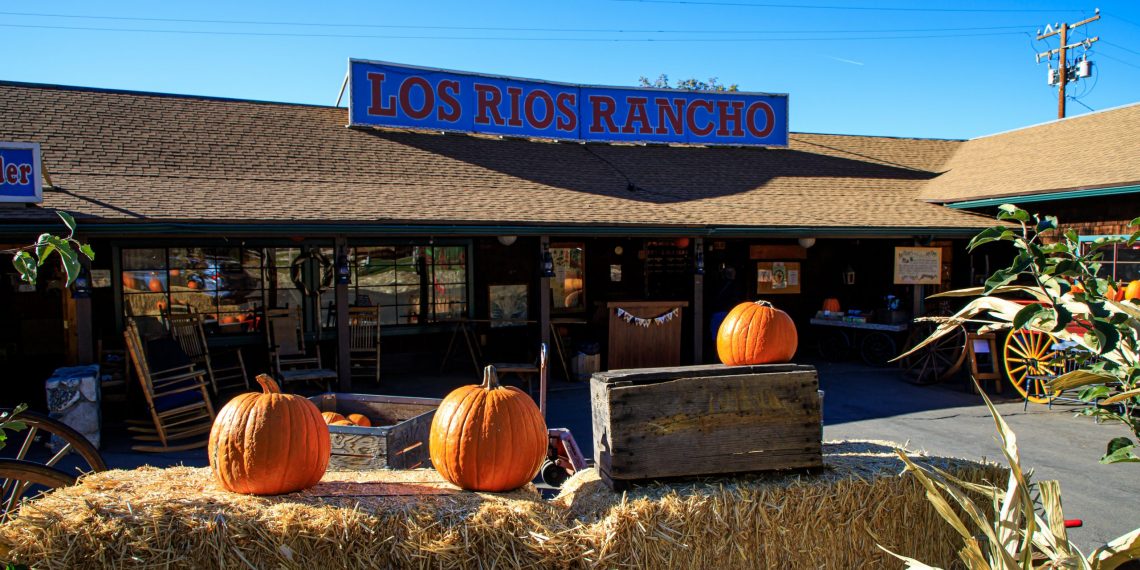 Fall is my favorite season, in theory. I love the changing leaves and the chill in the air. There is nothing I enjoy more than wrapping myself up in a blanket on cool nights. I think I'm much cuter in sweaters, scarves, tights and boots, than in bikinis, shorts, and tank tops. And, I can start breaking out the eggnog (pumpkin spice can kiss my ass). But, I live in Southern California and that means my fall season is really more of a faux fall season. (Don't get me wrong it's way more fall like here than it was in Hawaii, but compared to the majority of the country, it's barely a season change.)
The weather I guess does change slightly. Some days will be cooler than others and most nights and evenings do require at least a sweater, but for the most part, living in Southern California, you just have to pretend it's fall. (I'll still break out the tights, and the sweaters, and the boots, but if I didn't work in an office 90% of the time I would be so uncomfortable.) That also means sometimes having to really seek out those activities, like apple picking, that make you think of the season. And that is just what I did just a few weeks ago.
Located about 90 minutes from where I live, in Oak Glen, you will find many different apple orchards, all offering different experiences. I personally have only been to one, Riley's at Los Rios Rancho, but I am hoping over the remainder of the season to make it back up to Oak Glen to check out some of the other farms in the area. Although I cannot compare it to the other farms in the area, Riley's seems to offer a little something for everyone.
The husband and I started our day at Riley's nice and early. We arrived at about 8:30 am. Worried about the heat that the afternoon might bring, we decided to start with the nature walk/hike on site. The attendant there told us it would be about 2 miles in total (We didn't record it so I will trust that this information is correct.) if we hiked everything, which we did, but the Nature Trails and Botanical Gardens are segmented, making it really easy for people of all ages and activity level to explore as much or as little as they like. There is an additional, strenuous and steep, outlook hike, that is about 3.5 miles round trip which we didn't explore, but I've heard offers great views. We attempted the additional hike, but I didn't come prepared in the right shoes and we quickly had to turn around.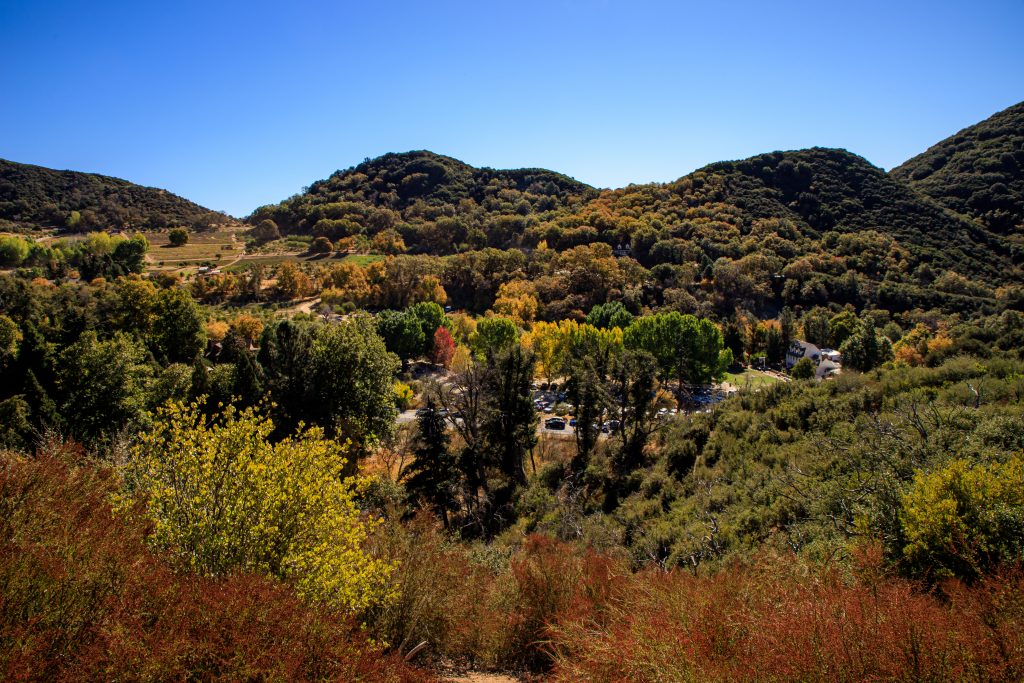 After our hike, we were starving and decided to get in line for lunch. The Farm Kitchen can get busy during peak seasons, so be prepared for a wait if you plan to eat there. Luckily for us, we only had to wait in line about 30 minutes and got our food in another 15 minutes. We ordered their tri-tip sandwich and pulled pork sandwich, both with a side of coleslaw. For dessert, my husband got a slice of crumb crust apple pie and I got the double crust apple pie. (We didn't get them Ala mode, but I'm sure it would have been amazing.) If I'm being fully honest, for the price, the food wasn't the best, but it wasn't horrible either. If you have the means to I would recommend bringing a packed lunch and picnicking outside, but if you have to eat there it's not too bad either.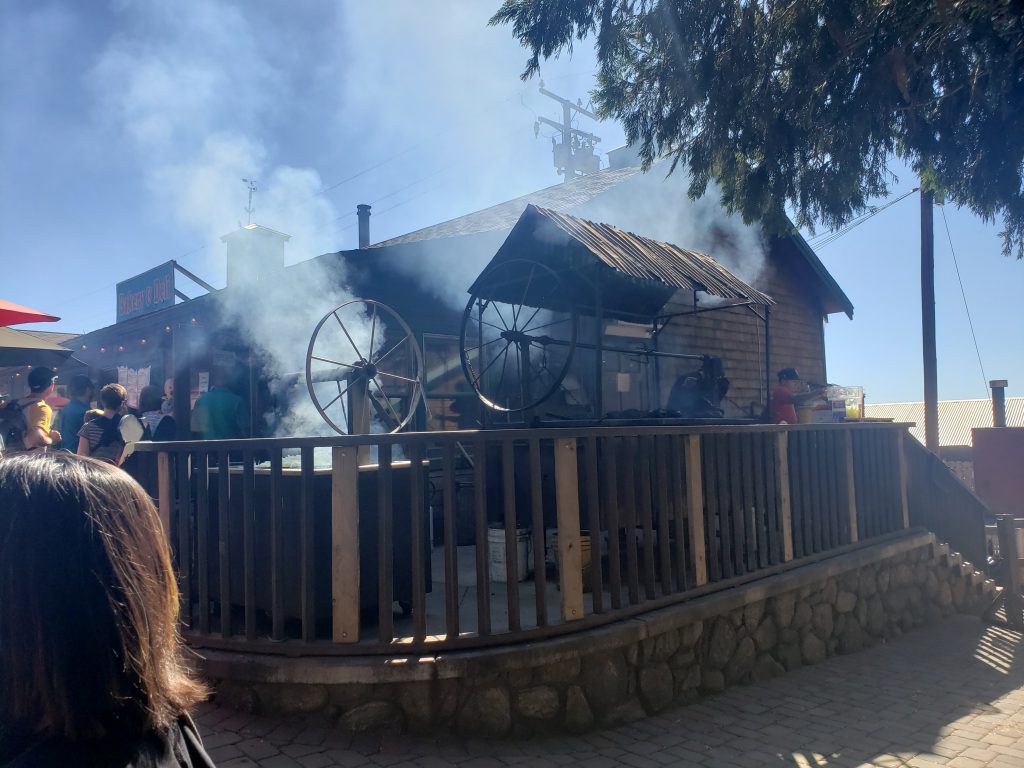 The pie (and other baked goods) though are a must! It comes out nice and warm. The apple is tender and not too sweet and the crust is perfect! My mouth is watering just thinking about it.
You can't go wrong with the other baked goods either. Before we left I picked up a pecan cinnamon roll and my husband grabbed a strawberry cheese muffin. They were both HUGE and incredible.
After lunch we wandered around the store for a while, sampling butters, jams, sauces and anything else we could find. The weekend we were there they also happened to be doing hard cider tastings, which we quickly jumped on. The ciders were delicious and we ended up buying one of every bottle available at the time.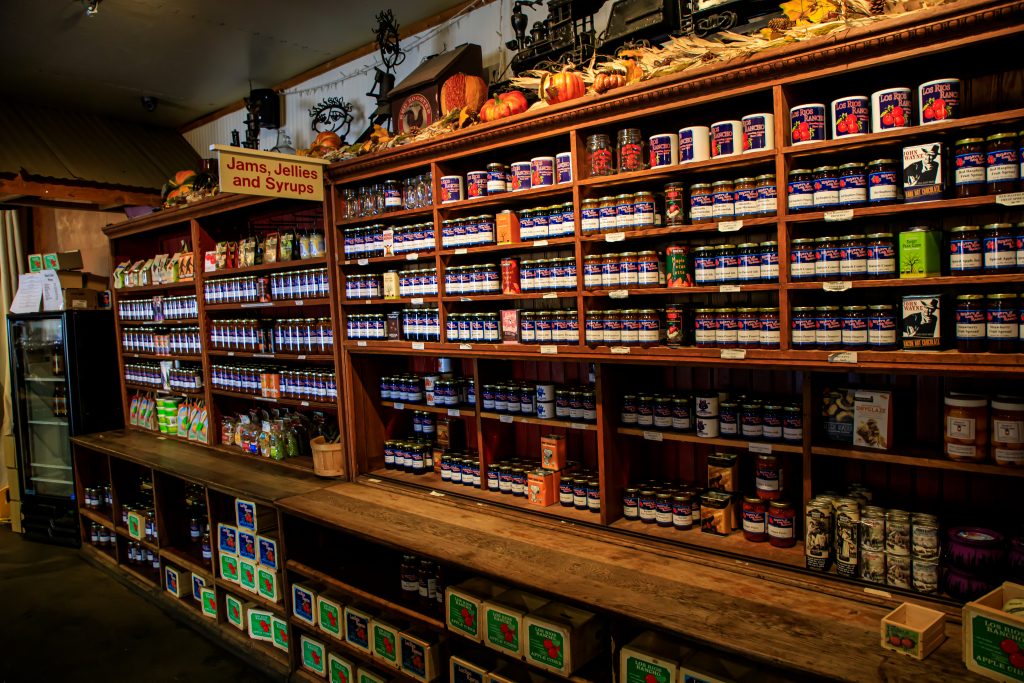 Before leaving we went on a free packing house tour where we got to learn about and see firsthand, how the orchard is run.
Now we didn't participate in everything the farm has to offer, but as you would assume, and as my title suggests, you can go apple picking here. I would have loved to, but with it just being my husband and I and with us not having an oven, we really had no need for a big bag of apples. Depending on the point in the season, different apples are available in different areas on the farm. You can check their website to see what is currently being offered before you head up.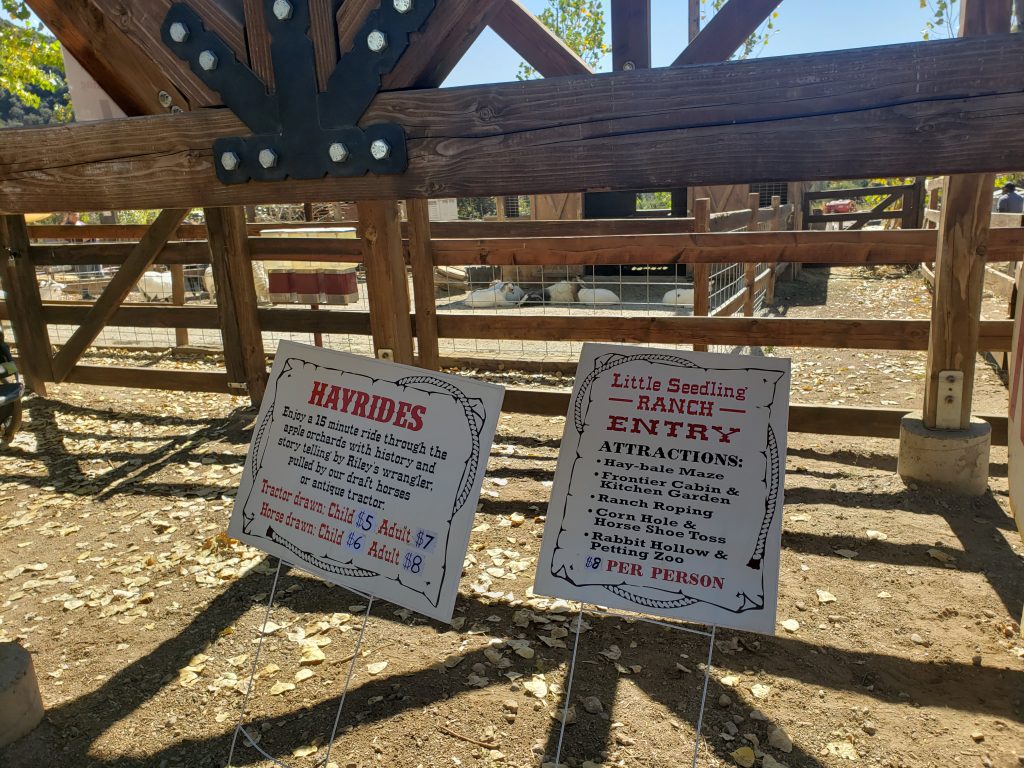 Besides apple picking, you can also press your own cider. My husband really wanted to do this, but there was a bit of a line so we opted to just buy a bottle of freshly pressed cider.
Besides the apple activities, they also have a petting zoo, hay rides and horse rides for a fee.