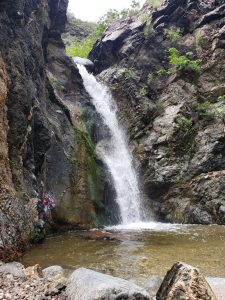 My husband and I have finally, after over five months in California, started hiking again. In just the past few weeks we have tackled five different trails starting with Eaton Canyon Falls.
Located in Altadena, CA, Eaton Canyon Falls Trail is a fairly easy and relatively short trail. Listed at about 3.5 miles, I tracked it at about 4 miles round trip and it took my husband and I about 2.5 hours to complete, including the time we spent at the falls.
From what I've read this hike can get very crowded, especially on the weekends, but we tackled this during the week and in the rain, so, for the most part, we had the entire trail to ourselves, with the exception of what I have affectionately started calling a herd of toddlers (right around the time we started our hike, so did a group of parents and about 6 or 7 toddlers).
The beginning of the trail is very simple; a fairly level and wide trail, with a few small stream crossing. As you get closer to the falls the trail does begin to narrow and the stream crossings get a bit more frequent, but overall there is not too much of an increase in difficulty. Along the entire trail there are great views of the San Gabriel Mountains, and thanks to this year's heavy rain, there was lots of flower blooms and vegetation to see. The falls themselves were pretty impressive for a short SoCal hike and again, thanks to the heavy rains this year, they were really flowing.
*This post outlines my personal experiences and opinions on this hike. I am not a professional or expert, nor do I have any formal hiking or survival training. Please hike and explore at your own risk.