It may sound crazy to anyone that has never been to Hawaii, but on the islands, 7 Eleven is one of the absolute best places to get a quick, cheap meal or snack. From ramen to sushi, hot dogs to sandwiches, Hawaii's 7-Elevens have something for everyone and it's not the lowest quality food you might imagine.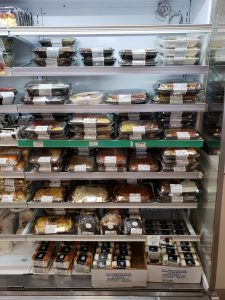 I am in no way a food snob and I will proudly say certain gas station hot dogs aren't bad. I on occasion have even purposely chosen to eat a gas station hot dog, whether it was from the ampm up the road from where I grew up or the 7-Eleven across the street from my junior college. However, even I was a bit confused and grossed out when my now husband first suggested 7-Eleven for a meal shortly after I arrived on Oahu. In my mind 7 Eleven was for hot dogs and Slurpees and not much else.
I ended up enjoying so many meals from 7-Eleven during my time on Oahu, from work lunches to late night snacks and early morning breakfasts before sunrise hikes, that I cannot even recall what I ate the first time my husband took me to 7-Eleven for a meal. I am not sure if it was for breakfast or dinner, but I do know that it was during my first month on the island and I perfectly remember my reaction, "Umm I know I'm on a tight budget, but I could afford some McDonalds or Taco Bell. I'm not that broke."
It was during that uncertain time I had on Oahu, where I wasn't even sure if I was going to find a job and be able to stay on Oahu so I was saving every penny I could. I also was living in a bedroom, this was before my first apartment, with no access to a kitchen. Eating out was my only option.
I remembered my husband had mentioned eating at 7-Eleven multiple times before I arrived on island and he assured me, after this meal suggestion, that it would be nothing like I was thinking. He promised 7-Eleven in Hawaii was nothing like California and he was 100% right. 7-Elevens in Hawaii have the traditional 7-Eleven gas station like food that you would expect, hot dogs, nachos, fountain drinks, Slurpees, but Hawaii 7-Elevens have so much more.
During my time on island, I tried so many different things from 7-Eleven, it's hard to keep track of it all. I often enjoyed their manapua, spam musubi (one of the best on Oahu), loco moco and Portuguese sausage breakfast burritos. Some of my favorite items included taro filled sweet rolls (I made sure to pack some of these with me when I left the island) and their rice and chili plate. A few locations sometimes carried slices of Ted's pie, which is hands down the best pie ever! They also sold huge arrays of bentos and offered catering sized platters of sushi. For snacks, beyond the traditional, they always had lots of local favorites from li hing mui to wasabi peas.
Although it may sound crazy, if you are ever in Hawaii I highly recommend you push all your prejudgments aside and stop into a 7-Eleven, even if it's just for a snack. And lucky for you, you'll never have to drive far to find one; they are literally on nearly every corner (I had two within walking distance of my home).
It's kind of sad to say, but as I wrote this I realized, I really do miss Hawaii's 7-Elevens.