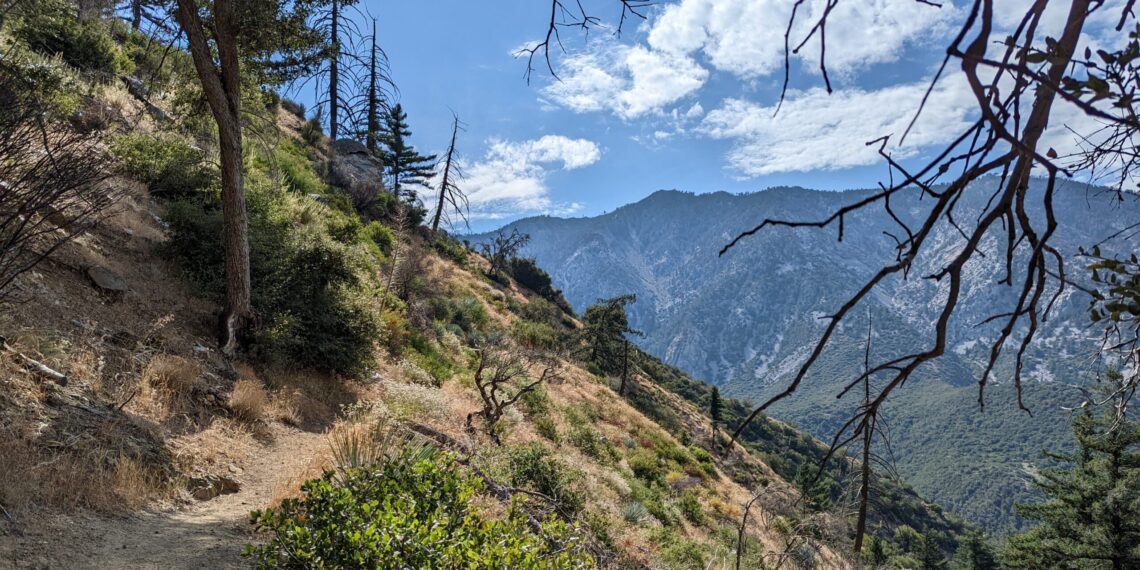 Mount Baldy's Bear Canyon Made Me Emotional
I love hiking. I love being outdoors. If I go too long without getting out of the city, I just don't feel right. I need some time away from it all, wrapped in the sounds of Mother Earth to reset and refocus. Even if it's just for an afternoon, it's something I need.
Because I nearly broke my foot in May, I lost a fight with a 30lb dumbbell and then spent the entire month of June trying to process the loss of my Tickle, when I set out to do the Bear Canyon Trail in Mount Baldy last month, I was breaking a two and a half month long no hiking streak.
I did a few nature walks and hiked the local park trails near my home, but I hadn't really gotten out and away. The day after Tickle died I did the Old San Gabriel Canyon Road Trail for a second time but I was so out of it and the pain was so fresh, I wasn't all there. So even though it's a gorgeous trail I don't really count that day either.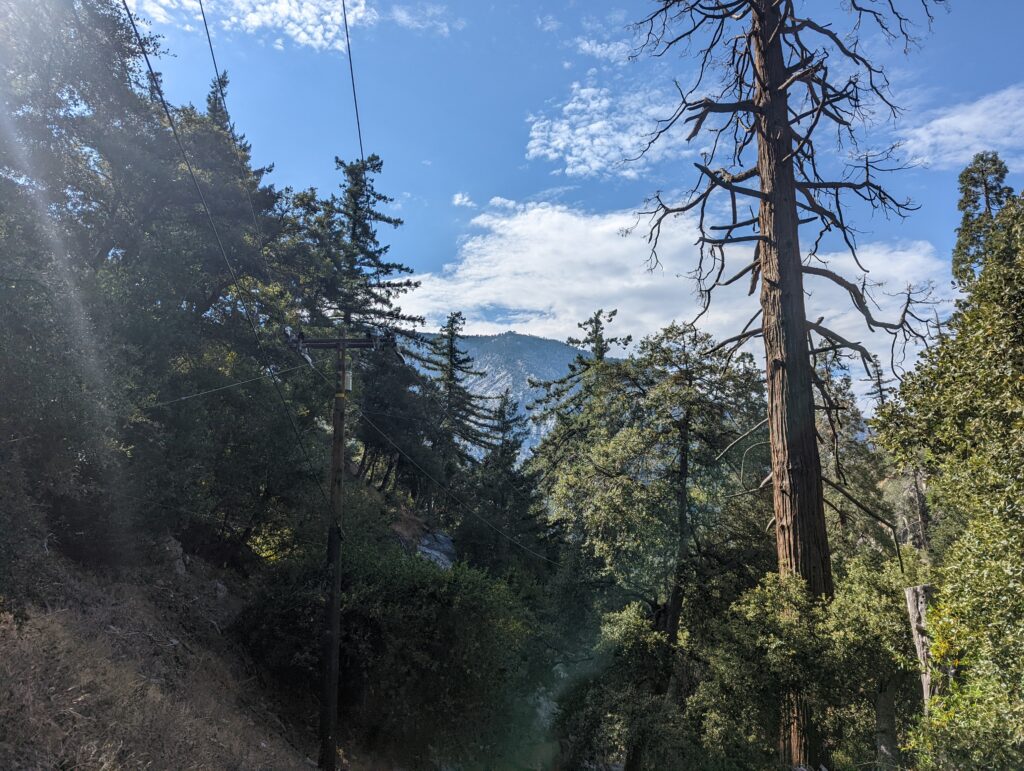 What I'm trying to say is that when my husband and I set out to hike Bear Canyon, that was the first time I was really getting out in a long time and it felt good. Really good, but I had an unusual response to the whole thing.
It had been a long time, but I've gone longer, and never have I felt the way I felt on this trail. At least not in California.
Where I currently live in California is about 10 minutes away from where I grew up. So I've basically been in this area my entire life, and Mount Baldy is only a mere 40 minutes away from my home, yet I have never been. For some reason, I've never even seen pictures. I heard of Mount Baldy my entire life, but for some reason never realized it was as close as it was and I just lumped it together with places like Arrowhead and Big Bear (I have no idea why, Mount Baldy doesn't have a lake, but I guess it was skiing that it's known for maybe?)
Anyways, I digress. I didn't realize Mount Baldy was so close and I had no idea what it looked like up there. I spend a lot of time in Azusa Canyon, and when I saw where Mount Baldy was on a map, I figured it would be similar.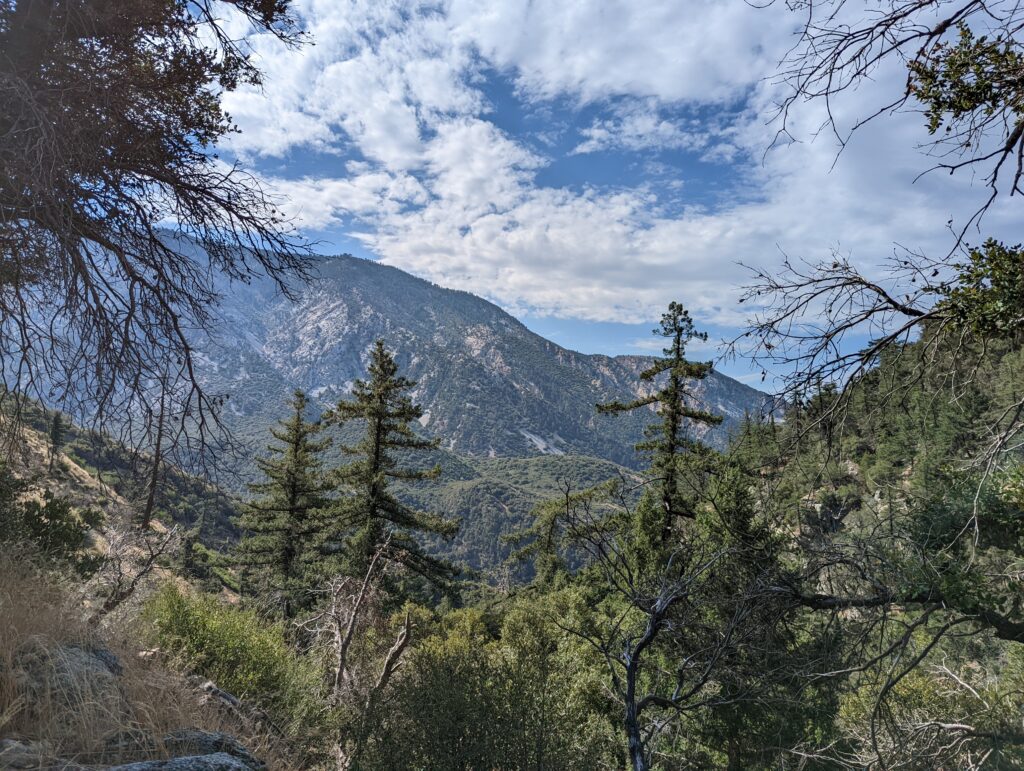 We also didn't put a lot of thought into the trail either. My in-laws were getting together for my father-in-law's birthday, so we needed a hike that wouldn't take too long, under 5 miles, wouldn't kill us because we're very out of shape, easy to moderate (but be warned, even though AllTrails rates this trail as moderate, it's rough, but more on that later), and wouldn't make us drive too far. With all that in mind, I plugged my parameters into AllTrails, selected a few trails that looked nice, and selected the closest trail. Really it came down to two, one up Azusa Canyon and Mount Baldy and we figured we'd never been to that area so why not?
I guess what I'm trying to say, is I didn't have a lot of expectations when I set out on this trail.
The drive up to our trailhead was awesome. Again, I didn't realize what Mount Baldy was like at all and it really is a cute little town. Also, despite the California drought, compared to Azusa Canyon and the other areas I hike more often, Mount Baldy seemed greener.
We got to the trailhead at an ok time, and parking wasn't a problem (although I will say we came back a week later around the same time and things were packed).
The Bear Canyon Hike starts right off the main road, near the visitor's center, and takes you through a neighborhood to start off with. Immediately I fell in love with all of the homes. Once you get through the neighborhood you start to zig-zag your way up the mountain and you pretty much climb for the entire length of the hike.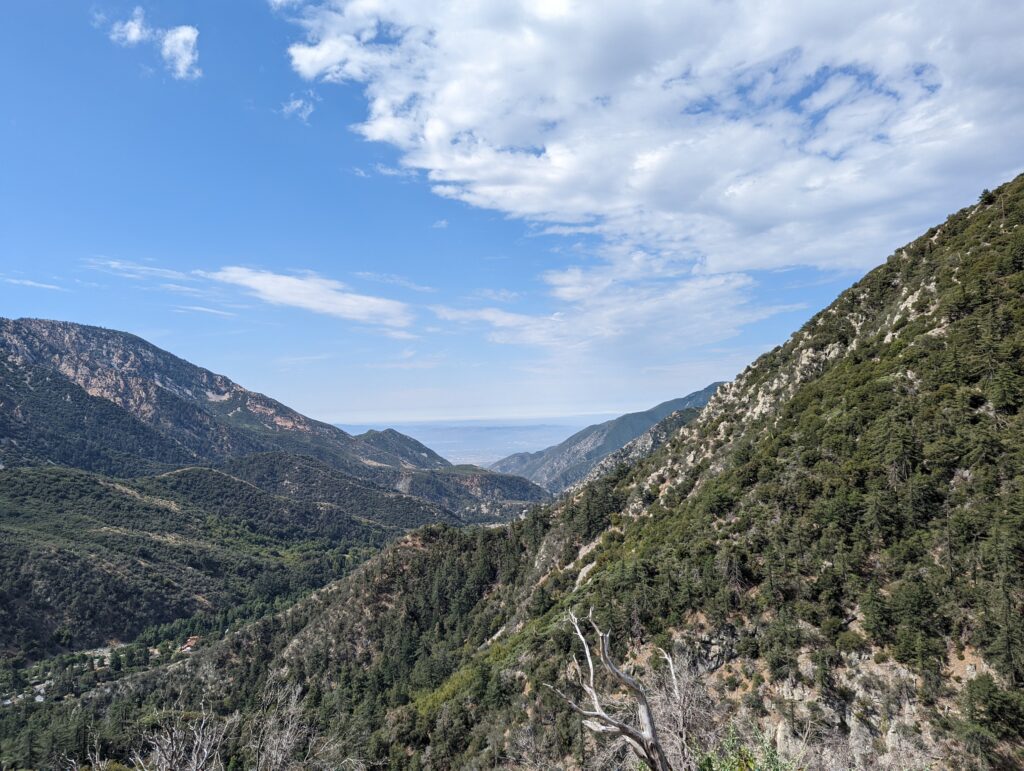 The hike kicked my butt, but the views were gorgeous! Most of the hike was pretty well shaded, and although we weren't that far from the nearest town, outside of Mount Baldy, it was quiet. Silent almost. All you could hear was the breeze in the trees and birds. Every once in a while the trail would open up to some of the most gorgeous views I have seen in these mountains.
Less than halfway up the trail I was in awe, I was in love. All I kept saying, over and over again was, "How have we never been here before?" and "I'm home. I'm finally home!" or "Tell everyone I've decided I'm never leaving."
I don't know what it was, but Mount Baldy and I just clicked. Maybe it was the clean air and the gorgeous views. Or maybe it was the fact that it was the first place I have found in this state that gives you the feeling of seclusion, but still has a full-size city with grocery stores and places like Target only 20 minutes away (living in Utah for the summer I know how important that is.). Or maybe it was the fact that I hadn't been out in the middle of nowhere for over 60 days.
No matter what it was when we went back the following week for a different hike, I still felt exactly the same.
We probably won't ever move to Mount Baldy, but for now, I'm in love and can't wait to go back and explore more when it gets a little snow.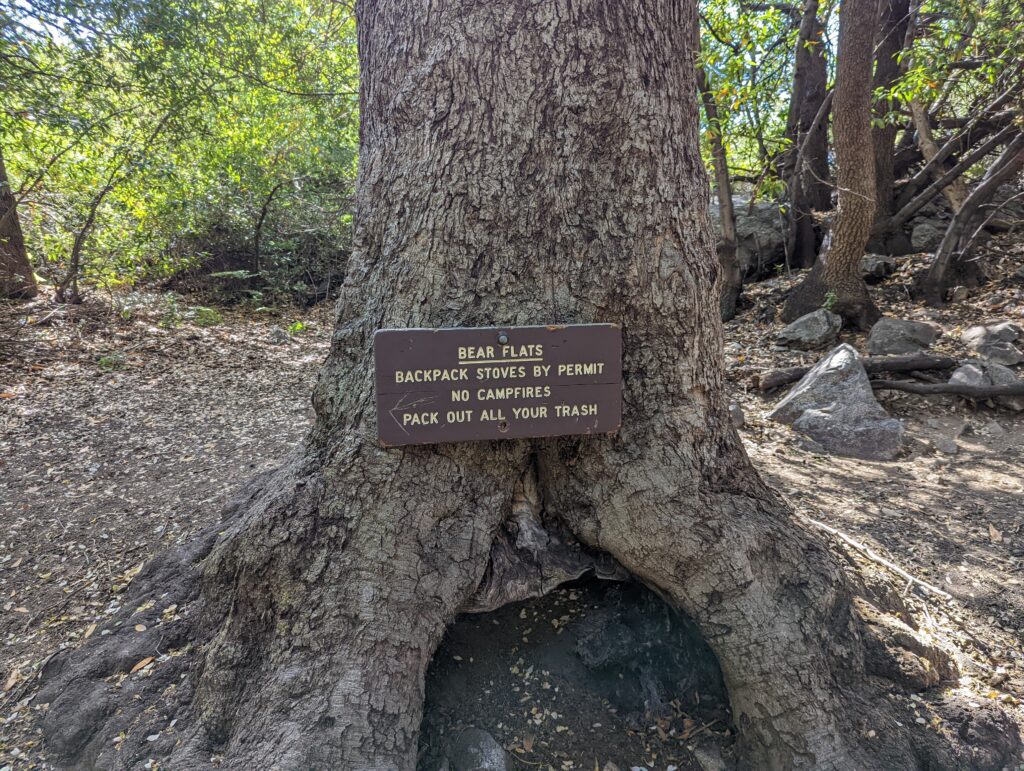 If you're interested in a little more information about the hike that started this love affair, the hike we did was called Bear Flats via Bear Canyon and according to AllTrails is 3.4 miles out and back. According to my tracking on all trails, which I started at our car, we hiked 4.1 miles and it took us about 2 hours and 40 minutes, 2 hours and 14 of those moving. I loved the hiked and would definitely do it again, but be warned the destination is a bit anti-climactic. No view or anything, just a tree that says Bear Flats. Besides that, the trail is fairly challenging if you aren't in great shape or used to the altitude. Nothing too tricky about the trail, but the entire way up is at an incline, not too steep, but consistent, and doesn't really level out at any point. On top of that there were a lot of bugs, so bring bug spray.
*This post outlines my personal experiences and opinions on this hike. I am not a professional or expert, nor do I have any formal hiking or survival training. Please hike and explore at your own risk.